State Baseball Tournament Preview - Division 2
Tuesday, June 29th, 2021 -- 1:04 PM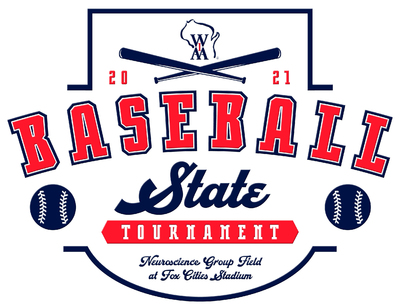 The 73rd State Baseball Tournament continues -Thursday at Neuroscience Group Field at Fox Cities Stadium in Grand Chute. Here's a preview of the Division 2 field.....
THE LAST TIME: 2019 is the last State Tournament played with the cancellation of the 2020 season and Tournament Series in the midst of the COVID-19 pandemic. Antigo captured the Division 2 title with an 8-3 win over Union Grove in the championship final.
DIVISION 2
Semifinals - Wednesday, June 30 at Fox Cities Stadium
#1 Denmark (29-1) vs. #4 Rice Lake (15-11) - 11:05 a.m.
#2 Catholic Memorial (20-8) vs. #3 Jefferson (24-6)*
Final - Wednesday, June 30 at Fox Cities Stadium
Semifinal Winners - 6:05 p.m.
THE DIVISION 2 FIELD: Top-seeded Denmark is back in the State Tournament for the first time since 2005 and for the third time overall. The Vikings' first-ever appearance was in 2002. In both their previous experiences, they advanced to the championship game and finished runner-up. This season, they defeated Rhinelander 3-1 in the Wrightstown Sectional final to gain a berth in State Tournament bracket. They are the champions of the North Eastern Conference this season. Second-seeded Catholic Memorial makes its first-ever appearance in the State Tournament as a result of a 2-1 victory over Lake Country Lutheran in the Kewaskum Sectional final. The Crusaders placed third in the Classic Eight Conference this spring. Third-seeded Jefferson is returning to the tournament for the seventh time and the first time since 2018 when the Eagles finished runner-up. They won their lone title in 2014 and also advanced to the championship final in 1994, which resulted in a runner-up finish. Their return to the State semifinals comes by virtue of out-slugging Mount Horeb 12-9 in the Brodhead Sectional final. They are the runners-up in the Rock Valley Conference this season. Rice Lake is seeded fourth in the bracket. The Warriors will be making their fourth appearance at State and the first since qualifying in Class A in 1982. They also had appearances in 1961 and 1964, and they are looking to advance past the first round for the first time. The Warriors beat Medford 7-4 in the sectional final played at Rice Lake. They finished fifth in the Big Rivers Conference this season.
---
Feel free to contact us with questions and/or comments.