Chatty Belle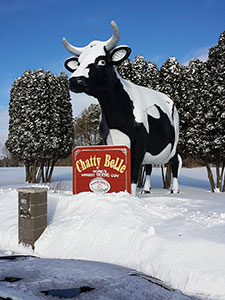 Chatty Belle is The World's Largest Talking Cow. Chatty Belle stands 16 feet tall at the shoulders and is 20 feet long! She is seven times larger than the average Holstein.
Mr. James Crowley, former Extension Dairyman at the University of Wisconsin estimated that Chatty Belle would consume 11 tons of grain, 24.5 tons of hay and 24.5 tons of silage per year! It was also estimated that Chatty Belle would produce 83,000 pounds of milk annually and her daily production would be 270 pounds of milk per day!
Chatty Belle received her name as the result of the "Name The Giant Talking Cow" contest held by Grassland Dairy and Central Wisconsin Broadcasting in 1967. Jody Hartl, a first grader from Loyal, submitted Chatty Belle and was chosen the winner out of 3000 entries! Jody's prize for winning the contest was 100 pounds of Grassland butter and a tour of the Grassland factory.
Since Chatty Belle's debut, she has gained fame for being one of America's top roadside attractions and has been featured on various television shows, movies, magazines, books and websites.
Follow Chatty Belle on her official Twitter and Facebook page.
| | |
| --- | --- |
| An Early photo of Chatty Belle at "birth". | The original winning entry form for the "Name The Giant Talking Cow" contest. |