Opelt Notches 1,000 Career Point In Neillsville Win
Monday, January 11th, 2021 -- 9:27 PM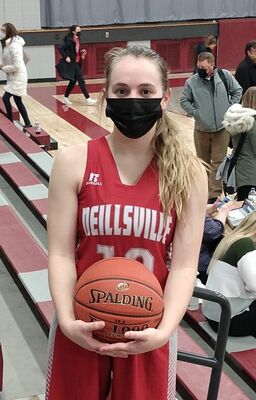 Senior Bella Opelt of Neillsville scored her 1,000th career point on Monday night in a 71-27 win over Loyal.
Opelt scored on a layup with just over 3 minutes left to in the game to get 1,000 points in her career. She now has 1,001. Bella becomes the 10th player in Neillsville history to surpass 1,000 points.
The Warriors (12-1, 9-0) got out to a 20 point halftime lead at 38-18 and never looked back. It was the second victory for Neillsville over Loyal in less than a week.
Opelt finished with a game high 18 points, Amelia Trunkel and Jaden Barth each had 11 points.
Savannah Schley led the Greyhounds (8-2, 7-2) with 14 points, all in the first half.
Neillsville will be at Stratford on Saturday while Loyal will host Colby on Thursday.
---
Feel free to contact us with questions and/or comments.