Upper Midwest Vintage Racing Series Results
Monday, September 18th, 2023 -- 10:40 AM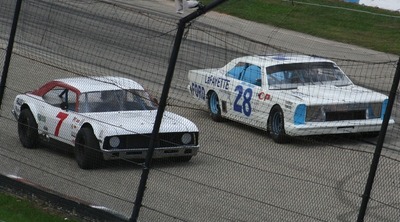 The Upper Midwest Vintage Racing Series made their final stop at Marshfield Motor Speedway this past weekend for the annual Fall Shootout, and also the Bev Aschenbrenner Memorial race that was rained out in June.
Sixteen drivers made the trip to the half mile speedway and up first was the Bev Aschenbrenner 20 lap feature. It was Sean Herzog of Wausau taking the checkered flag with Paul Brown of Friendship second and Eric Melchior of Watertown third.
Up next was the Fall Shootout 20 lap feature which saw Jim Kulseth of Rosemount, Minnesota crossing the finish line ahead of Daron Fish of Grand Marsh and Justin Jessop of Black River Falls coming in third.
The Upper Midwest Vintage Series would like to thank race sponsors ProVision Partners Co-op of Marshfield and Mikes Tire Service of Loyal for helping bring the vintage drivers to Marshfield for this event.
Next up on the busy Upper Midwest schedule is the 54th annual running of the Oktoberfest races at LaCrosse Speedway on October 8th.
---
Feel free to contact us with questions and/or comments.