WIAA State Boys Golf Championships Preview
Thursday, June 1st, 2023 -- 12:32 PM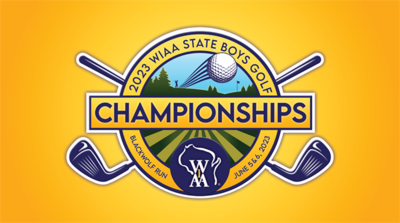 The 97th Wisconsin Interscholastic Athletic Association Boys Golf Championships will be held Monday and Tuesday, June 5-6 on the Meadows Course at Blackwolf Run in Kohler, Wis. Competition will begin for Division 1 at 7 a.m. Monday and at noon for Divisions 2. and 3. Play resumes Tuesday at 7 a.m. for Divisions 2 and 3 and at noon for Division 1.
The competition features 16 teams and 24 individual qualifiers in Division 1, and eight teams and 12 individuals in Divisions 2 and 3. Weather permitting, all competitors will play 36 holes, including 18 holes on each day. The lowest scores from the first day will have the later tee times Tuesday.
LAST YEAR: Eau Claire Memorial won the Division 1 team championship by shooting a four-player, 36-hole score of 608, which was three strokes better than former defending champion Kettle Moraine at 611. Will Schlitz of Eau Claire Memorial earned individual medalist honors with a 36-hole score of 145, which was 1-over-par. Edgewood won the Division 2 title for the fifth straight season, not including the 2020 season that was canceled because of the COVID-19 pandemic. The Crusaders finished with a four-player score of 625. Xavier placed second at 635. Winston Knobloch of Winneconne earned medalist honors by firing a 147, which was 3-over-par. Kohler won the Division 3 title for the second consecutive season, scoring a 643, and Cambridge was runner-up with a team total of 648. Trey Oswald of Parkview won the individual title with a score of 150, which is 6-over-par.
CHAMPIONSHIP NOTES: Madison West holds the record for the most team golf titles with 15. Osseo-Fairchild is next in line with nine, followed by Arrowhead with eight, and Edgewood and Racine Park with seven. Madison West has also produced the most individual champions with nine. Edgewood (2017-19, 2021-22) is the only program to win five straight team. titles. Arrowhead (2007-2010) and St. Mary's Springs (2015-18) are the only other programs to have won four straight team titles. Five other schools have won three straight championships. Racine did it in 1923-25; Madison West won three straight titles twice, in 1934-36 and 1960-62; Osseo-Fairchild accomplished the feat in 1994-96; and Middleton did it from 1997-99. Bill Heim of Green Bay Preble and Jeremy Lyons of Glenwood City are the only individuals to win medalist honors three times. Heim won from 1986-88 and Lyons from 1997-99.
TEAMS COMPETING: The schools qualifying for the State Meet in Division 1 are Arrowhead, DeForest, Eau Claire Memorial, Fond du Lac, Franklin, Holmen, Kettle Moraine, Kimberly, Lakeland, Marquette, Milton, Sheboygan North, Waukesha North, Waunakee, West De Pere and Westosha Central. Teams qualifying in Division 2 are Amery, Berlin, Edgerton, Edgewood, Kettle Moraine Lutheran, McDonell Catholic/Regis, Winneconne and Xavier. Qualifying teams in Division 3 are Barneveld, Cambridge, Glenwood City, Lena, Mineral Point, Neillsville, Newman Catholic and Sheboygan Lutheran.
DIVISION 1 INDIVIDUAL QUALIFIERS: The individual qualifiers in Division 1 are senior Rasmus Madsen of Appleton North, junior Charlie Huerth of Badger, senior Jack Weisenberger of De Pere, senior Cody Schmidt of Germantown, junior Matthew Zagar of Harford, junior Easton Haworth of Janesville Craig, senior Finn Jackson of Madison West, junior Sam Dethloff of Menomonee Falls, junior Dain Johnson of Middleton, junior Rylan Conley of Monona Grove, senior Evan Dunning of Muskego, sophomore Thomas Bobinski of Notre Dame, senior Jozef Warpechowski of Oak Creek, sophomore Drew Maglio of Oconomowoc, senior Colin Comeau of Onalaska, senior Brady Bleck of Plymouth, sophomore Samuel Schoppe of Rhinelander, senior Aidan Carufel of River Falls, junior Zach Greenhill of Slinger, senior Tyler Schick of Sun Prairie East, seniors Nathan Beutel and Jacob Brown of Union Grove, sophomore Robbie Meyers of Waterford and sophomore Cooper Bjerke of Wausau East.
DIVISION 2 INDIVIDUAL QUALIFIERS: The individual qualifiers in Division 2 are sophomore Braden Naumann of Lake Country Lutheran, senior Pierce Zimmel of Lomira, junior Connor Lingen of Medford, senior Grant Bauman of Peshtigo, senior James Reilly of Prairie du Chien, senior Nicholas Mueller of St. Croix Central, freshman Vince Sigl of Seymour, senior Andrew Kettle from Sheboygan Falls, junior August Lang from Somerset, senior Emery Endres and junior Charlie Darrow of University School of Milwaukee and junior Trey Reilly of Wautoma/Wild Rose.
DIVISION 3 INDIVIDUAL QUALIFIERS: The Division 3 individual qualifiers are sophomore Alex Ruetten of Argyle/Pecatonica, sophomore Cameron Lipinski of Cochrane-Fountain City, freshman Garrett Gullicksrud of Eleva-Strum, freshman Aaron Federwisch of Elkhart Lake-Glenbeulah, senior Brady Larson of Fennimore, junior Kevin Ross of Flambeau, senior Reece Breitenbach of Kohler, freshman Simon Cole of Ladysmith, junior Cooper McLaughlin of Lourdes Academy/Valley Christian, senior Spencer Lynch of St. Mary Catholic, junior Kaiden Bailey of St. Thomas Aquinas Academy and junior Konnor Mehlberg of Wisconsin Valley Lutheran.
TOP RETURNERS: In Division 1, defending champion Will Schlitz, a junior from Eau Claire Memorial, has the distinction of being the top finisher from last season returning to this year's championships. He also placed in a tie for 34th place at the 2021 State Tournament. Senior Winston Knobloch of Winneconne is the returning champion in Division 2, and in Division 3, senior Reece Breitenbach of Kohler is the top returning golfers in this year's field after tying for second last season. In addition, he tied for 11th in 2021.
---
Feel free to contact us with questions and/or comments.