Neillsville Baseball Team ECC Champs!
Saturday, May 20th, 2023 -- 7:40 AM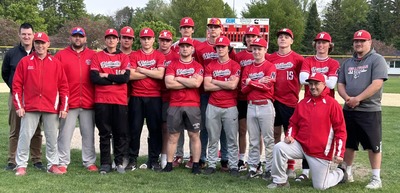 The Neillsville Warrior baseball team is the Eastern Cloverbelt Conference champions after beating Spencer on Friday 8-7.
The Warriors got out to a 6-1 lead after 5 innings before Spencer scored 4 in the 6th to cut the lead to one. Neillsville would get 2 runs in the bottom of the 6th to go up 8-5, but the Rockets made it close, scoring 2 runs in the top of the 7th before Neillsville got a pop out to end the game.
Gavin McFarlane was credited with the win going 6 innings in all allowing 2 runs on 4 hits, striking out 2 and walking 1. Andrew Hoeser pitched 1 inning giving up 5 runs on 5 hits, walking 2 and striking out 1.
Hoeser and Bryce Erickson led the way at the plate each collecting 2 hits, Erickson also had 2 RBI's. Spencer out hit the Warriors 9-6 led by Luke Roehrborn who was 3 for 4, Kaiden Miller had 3 RBI's and Madden Prybylski scored 3 runs.
Neillsville finishes the conference season at 11-1, Spencer finishes 8-4.
---
Feel free to contact us with questions and/or comments.