WIAA State Boys Basketball Tournament Preview: Division 5
Thursday, March 16th, 2023 -- 9:26 AM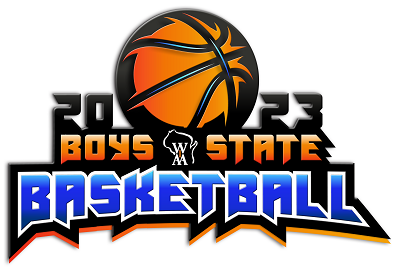 The 107th Wisconsin Interscholastic Athletic Association Boys Basketball State Tournament will take place today-Saturday at the Kohl Center in Madison. Here's a preview of the Division 5 field.....
The State Tournament will be televised live in our area on WAOW-TV in Wausau, WXOW-TV in La Crosse, and WQOW-TV in Eau Claire.
Friday, March 17 - Semi-Finals
#1 Newman Catholic (25-4) vs. #4 Royall (22-7) - 9:05 a.m.
#2 McDonell Catholic (28-1) vs. #3 Fall River (26-3)*
*Note: Subsequent games of each session will begin approximately 15 minutes following the previous game.
Championship Final - Saturday, March 18 - 11:05 a.m.
ABOUT THE DIVISION 5 FIELD: Top-seeded Newman Catholic will be experiencing the State Tournament for the first time following the Fighting Cardinals' 66-54 win over Gibraltar in the Seymour Sectional final. They are the runners-up to Marathon in the South Division of the Marawood Conference this season. Prior to joining the WIAA, the Fighting Cardinals recorded runner-up finishes in Division 3 in 1993 and in Division 2 in 1999 as a former member of WISAA. Second-seeded McDonell Catholic will appear at State for the sixth time in the last seven seasons, not including 2020 when the tournament was canceled because of COVID-19. It's the seventh appearance for the Macks overall. They won the State championship in 2016 and finished runner-up in their most recent appearance in 2021 and in 2018. They earned their tourney berth this season with a 58-56 win over Solon Springs in the sectional final held at Amery. The Macks are the champions in the Western Division of the Cloverbelt Conference this season. Fall River, the #3 seed in the bracket, makes its second appearance at State. The Pirates lost their Division 4 semifinal match-up in their first appearance in 2000. They outlasted Heritage Christian with an 82-75 overtime win in the Watertown Sectional final to advance to the State semifinal round. The Pirates are the champions in the West Division of the Trailways Conference. Fourth-seeded Royall returns to State for the first since the Panthers' only other appearance in 2010, which resulted in a loss in the Division 4 semifinals. They posted a 58-40 victory over Wauzeka-Steuben in the sectional final played at Wisconsin Dells to earn their trip to the Kohl Center. The Panthers finished third in the Scenic Bluffs Conference this season.
---
Feel free to contact us with questions and/or comments.