Five Girls Basketball Teams Crowned Champions
Sunday, March 12th, 2023 -- 8:13 AM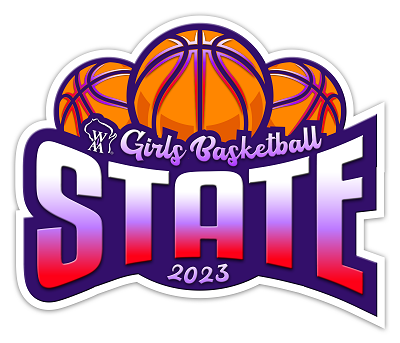 The finals of the 2023 State Girls Basketball Tournament produced champions in five divisions Saturday at the Resch Center.
In Division 1, third-seeded Kettle Moraine (28-1) won its second consecutive championship with a 47-40 win over top-seeded Brookfield East. Grace Grocholski fueled the Lasers with a game-high 24 points. Shae Kelley was the only Spartans' player scoring in double figures with 18 points. Kettle Moraine has now won three State championship in program's eight trips to the tournament.
Second-seeded Notre Dame (29-0) completed a perfect season in winning its third straight Division 2 championship with a 64-49 victory in a rematch of last year's title tilt with top-seeded Pewaukee. Gracie Grzesk led a balanced scoring attack for the Tritons with 16 points. The Tritons set a Division 2 State Tournament record by dishing out 37 assist in the two games. Anna Terrian scored a game-high 19 points for the Pirates. Notre Dame wins its sixth State championship in its 10th tournament appearance.
Kewaskum (24-5), the third seed in the bracket, won the championship by downing fourth-seeded Milwaukee School of Science 55-51 in the Division 3 title game. Julie Steger paced the Indians, scoring a game-high 23 points and grabbing a team-high 10 rebounds. The Lady Novas were led by Beautiful Waheed with 16 points and a game-high 12 rebounds. Kewaskum wins the program's first State championship in its third experience in the tournament.
Second-seeded Laconia (27-3), last year's runner-up, captured the Division 4 crown with a 64-51 win over top-seeded Aquinas. Reese Keel finished the game with a team-high 16 points. Macy Donarski led the Blugolds in scoring with 18 points and dished out a Division 4 record-tying 11 assists with four steals. Laconia wins the program's first State title in three State appearances.
In Division 5, top-seeded McDonell Catholic (26-5) won the title with a 61-46 victory over Blair-Taylor in the championship game. Aubrey Dorn led the Macks with a game-high 16 points. The Wildcats were led in scoring by Abby Thompson and Lindsay Steien each with 15 points. McDonell Catholic wins its first State championship in its third appearance in the tournament.
---
Feel free to contact us with questions and/or comments.