Jaenke Wins Second Straight 3-Point Challenge
Sunday, March 12th, 2023 -- 8:10 AM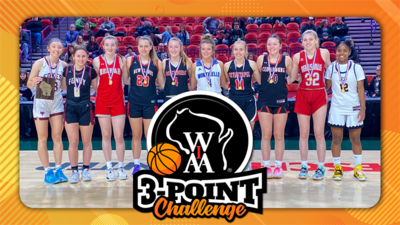 Emily Jaenke, a senior from Fox Valley Lutheran, won the 2023 girls 3-Point Challenge held Saturday morning at the Resch Center in conjunction with the State Girls Basketball Tournament, successfully defending the title she won last year.

Jaenke, representing Division 2, was one of 10 participants in the 3-Point Challenge, which was held for the eighth time. She scored a final-round record of 20 points to win the contest. Senior Sophie Langille of Fond du Lac was second with 18 points in the final round, and sophomore Ameerah Grant of Brown Deer was third with 17 points in the final round.

Jaenke scored 20 points in the opening round and 19 in the semifinals. Langille opened with 17 points and followed with a 19 in the semifinals. Grant and senior Allie Ziebell of Neenah also advanced to the semifinals with scores of 19 and 18, respectively.

Other participants were junior Libby Ash of Sevastopol, sophomore Mimi Hart of Cedarburg, freshman Riley Ketterhagen of Oostburg, junior Paris Opelt of Neillsville, junior Lindsey Schadewait of New Glarus and junior Jaden Zuber of Monticello.
---
Feel free to contact us with questions and/or comments.