Tom Brady Is Retiring "For Good" From Football
Wednesday, February 1st, 2023 -- 9:05 AM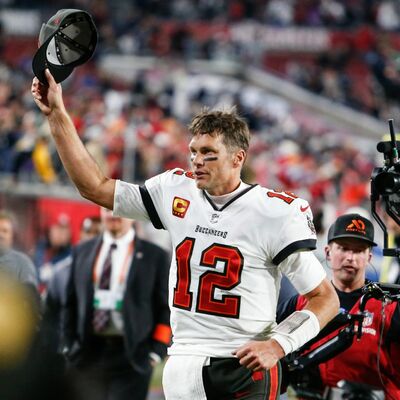 Tom Brady says he is retiring "for good" from football, ending a storied 23-year NFL career during which the star quarterback won seven Super Bowls and set numerous records. ESPN reports that Brady announced his decision earlier today on social media, saying he "wouldn't change a thing" about his career.
Brady, who won six Super Bowls with the New England Patriots and one with the Buccaneers, ends his career as the NFL's leader in career passing yards (89,214) and touchdown passes (649). The three-time league MVP passed for 4,694 yards -- third most in the NFL -- and 25 touchdowns this past season, his third with Tampa Bay.
He is the only player to win more than five Super Bowls and has been named Super Bowl MVP five times.
Brady, 45, also announced he was retiring on Feb. 1, 2022, before changing his mind 40 days later and returning to play this past season with the Tampa Bay Buccaneers.
Brady can immediately begin working as an analyst for Fox Sports, which signed him to a 10-year, $375 million contract this past summer.
---
Feel free to contact us with questions and/or comments.