Neillsville Alumnus, Cody Craig Named To St. Norbert College Hall Of Fame
Wednesday, January 25th, 2023 -- 9:15 AM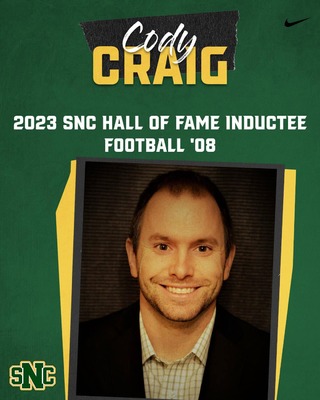 The St. Norbert College Department of Intercollegiate Athletics 2023 Hall of Fame Class has grown by seven individuals and one of those is Neillsville High School alumnus, Cody Craig.
Craig is a 2004 Neillsville High School graduate and a 2008 St. Norbert graduate. He was a four-year letterwinner in football for the Green Knights from 2004 to 2007. A first-team All-Midwest Conference selection in 2007, Craig is second in St. Norbert history in career passing yards (7,181), touchdown passes (70) and passing completions (507). He also holds the school record in season passing yards with 2,755 and is the only St. Norbert quarterback to throw for 30 touchdowns in a season. The Green Knights won Midwest Conference titles in 2004, 2006 and 2007.
The Class of 2023 brings the total enshrined in the St. Norbert Athletics Hall of Fame at 164 persons. The Hall of Fame Induction will be held Saturday, October 14, 2023 as part of Homecoming weekend.
---
Feel free to contact us with questions and/or comments.