WIAA 11 Player State Football Finals Preview....Division 4
Wednesday, November 16th, 2022 -- 7:05 AM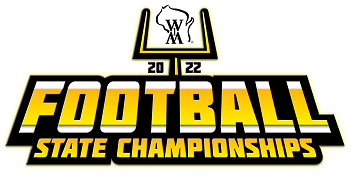 The 46th Wisconsin Interscholastic Athletic Association Football State Championships will be held this Thursday and Friday, Nov. 17-18, at Camp Randall Stadium in Madison. Here's a preview of the Division 4 game...
Thursday, Nov. 17
Div. 4 - Catholic Memorial (13-0) vs. Columbus (13-0) - 7 p.m.
LAST YEAR RECAP: Catholic Memorial won its second consecutive title in the Division 4 with a 21-12 triumph over Ellsworth.
DIVISION 4 NOTES: The two-time defending champion, Catholic Memorial, is making its ninth appearance in the State final in pursuit of the program's sixth championship. The Crusaders won the Division 4 title last season and in 2019 after moving down a division from Division 3, where they won State titles in 2012, 2016 and 2018. In addition, the Crusaders were runners-up in Division 2 in 2001 and in Division 3 in 2010 and 2015. Before joining the WIAA, the Crusaders won WISAA titles in 1979, 1989, 1993 and 1996. They were also runners-up six times. This season, they finished atop the Parkland Conference standings. They advance to the championship game after a 20-14 victory over Two Rivers at Level 4. The Crusaders are outscoring their opponents by an average 42-11 points per game this year. Columbus advances to the finals for the fourth time. The Cardinals' previous three appearances came during the early and mid-90s. They won the Division 4 championship in 1990 and again in 1996. They finished runner-up in their appearance in 1995. The Cardinals are the champions of the Capitol Conference this season. They advance to the championship final after doubling-up on Freedom 32-16 in their Level 4 match-up. It may be fair to say the Columbus has yet to be challenged during its first 13 games this season. The closest an opponent has been all season was the 16-point spread in the Level 4 game. Their average margin of victory has been 39 points this season.
ON THE AIR: The championship games of all seven divisions will be televised live on either Bally Sports Wisconsin or Bally Sports Wisconsin Extra. The Divisions 2-7 games will air on Bally Sports Wisconsin and the Division 1 game will be live on Bally Sports Wisconsin Extra. Access your cable listings for the channel in your area.
---
Feel free to contact us with questions and/or comments.