Upper Midwest Vintage Racing Series Makes Stop In Madison
Monday, August 1st, 2022 -- 8:55 AM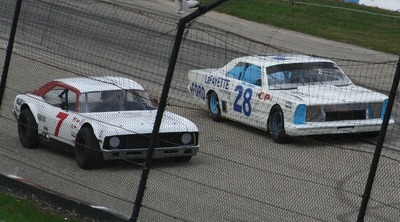 The Upper Midwest Vintage Racing Series made a stop on their tour at Madison International Speedway this past Friday night,July 29th.
Seventeen drivers from 3 states made an appearance and it was Tom Gille, from Winnebago, Illinois taking top honors in the feature event in his first appearance ever with Upper Midwest Vintage. Jim Kulseth of Rosemount,Minnesota finished second with Dave Gawronski of Reedsburg finishing third, with Brian Lee of Holmen coming home fourth and Justin Jessop of Black River Falls rounding out the top five.
Heat race winners were Eric Melchior of Watertown and Tom Gille also taking his heat race.
Next stop on the Upper Midwest Tour is August 13th at Marshfield Motor Speedway for the Jim Langreck Memorial race.
---
Feel free to contact us with questions and/or comments.