State Boys Golf Champions Crowned
Wednesday, June 8th, 2022 -- 8:16 AM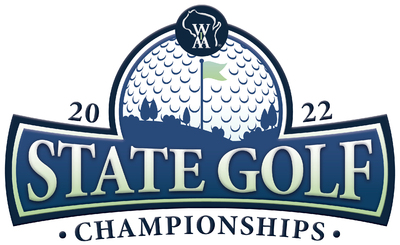 KOHLER, Wis. – Three teams and three individuals were crowned champions at the 2022 State Boys Golf Championships at Blackwolf Run.
Eau Claire Memorial captured the Division 1 team championship. The Old Abes scored a four-player total of 608 for the two day tournament. Last year's champion Kettle Moraine finished second with a score of 611.
Sophomore Will Schlitz of Eau Claire Memorial surged on the second day of the tournament to win individual medalist honors in Division 1 after tying for 34th last year. He shot 3-under par on Day 2 and finished 1-over-par with a 36-hole total of 145 for the tourney. Junior Mason Schmidtke of Sheboygan North was runner up with a 2-over-par 146 after tying for fifth place a year ago. Junior Rasmus Madsen of Appleton North was third with a 147.
_______________________________________
Edgewood won its fifth straight Division 2 team championship, not including the canceled 2020 season due to COVID-19. No other program has won five consecutive titles. The Crusaders recorded a cumulative four-player score 625, which is 10 strokes fewer than runner-up Xavier with 635.
Junior Winston Knobloch of Winneconne was the Division 2 medalist, shooting a 3-over-par 147. Joe Volpentesta of Antigo was five strokes back in second place with a 36-hole total of 149. Tyler Johnson of Berlin was third at 150. Ben Biskupski of McDonell/Regis finished tied for 29th with a two day score of 168.
_______________________________________
Kohler successfully defended the title it won in Division 3 a year ago. The Blue Bombers compiled a four-player score of 643. Cambridge finished runner-up, five strokes back of the leader with a 648. Marathon finished 4th.
Senior Trey Oswald of Parkview led throughout much the tournament and won the Division 3 gold medal with a 6-over-par, 36-hole score of 150 after tying for second place in 2021. Last year's individual medalist, senior Noah Kirsch of Lancaster, and junior Reece Breitenbach of Kohler, who placed in a tie for 11th last season, tied for second place. Each scored 152 for the two-day tournament. Conner Krach of Newman Catholic finished tied for 5th with a 155 while Neillsville's Nolan John finished tied for 24th with a 178.
---
Feel free to contact us with questions and/or comments.