Team and Individual Champions Crowned at State Track & Field Championships
Monday, June 6th, 2022 -- 11:17 AM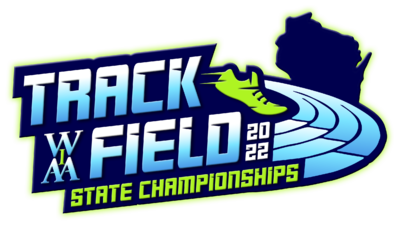 LA CROSSE, Wis. – The 2022 State Boys and Girls Track & Field Championships produced eight team champions and 117 event champions at Veterans Memorial Field Sports Complex Saturday.
Arrowhead won the Division 1 boys team championship by accumulating 55.5 points, and Kimberly was runner-up with 36 points. In Division 2, Shorewood earned the title with 46 points, edging second-place Lodi, which finished with 45 points. Chetek-Weyerhaeuser was the team champion in Division 3 with 44 points, nine points more than runner-up Athens with 35. Kenosha Indian Trail won the boys wheelchair team championship with 36 points, and Wisconsin Lutheran was second with 35 points.
West De Pere won the Division 1 girls team title with 60.3 points, and Homestead came in second with 36 points. Shorewood also won the girls Division 2 crown, finishing with 38 points, and Freedom placed second with 30 points. In Division 3, Webster captured the team title with 38 points, one more than runner-up Dodgeland with 37 points. Turner won the girls wheelchair team championship with 40 points, and Kenosha Indian Trail was second with 35 points.
The meet was highlighted by five record performances. In Division 1, senior Roisin Willis of Stevens Point shattered the State Meet record in winning the girls 800-meter run with a time of 2:00.03, eclipsing the mark she set in 2019. Her time also eclipsed the published national high school record. Senior Rachel Blaskowski of Oak Creek leaped to a record in the long jump at 19-9 3/4, and senior Peyton Berryman of Homestead set the new mark in the pole vault at a height of 12-9. In Division 2, senior Shane Griepentrog of Valders raced to the record in the 3,200-meter run with a time of 9:04.98. Senior Josh Jundt of Kenosha Indian Trail won the wheelchair shot put with a record toss of 25-11 ½.
There were a number of individuals that were champions in multiple events, including five three-event champions and a four-time wheelchair winner. Senior Kayci Martensen of Benton/Scales Mound won the girls 800, 1,600 and 3,200 runs to sweep the distance events for the second straight year, giving her eight track championships in her career to go with three State cross country championships. Junior Brooklyn Sandvig of Chippewa Falls captured the titles in the girls 100, 200 and 400 dashes in Division 1. Junior Ava Washburn of Webster won the girls Division 3 100 hurdles as well as the long and triple jumps. Junior Nathan Cumberbatch of Shorewood earned titles in the Division 2 boys 400 and 800 dashes as well as being the final leg of the champion 1,600 relay team. Senior Parker Schneider of Durand swept the Division 3 distance events by winning the 800, 1,600 and 3,200 runs. Junior Rachel Cleaver of Turner compiled four wheelchair titles in winning the girls 100, 400 and 800 races as well as the shot put.
There were also 28 events in the meet that had former champions add to their collection of gold medal in their respective events, including Martensen in the Division 2 1,600 and 3,200 runs and senior Jaiah Hopf of Wisconsin Lutheran in triple jump. She won back-to-back Division 1 titles in 2021-22 and the Division 2 championship in 2019.
COMPLETE RESULTS
Division 1: Boys | Girls
Division 2: Boys | Girls
Division 3: Boys | Girls
Wheelchair: Team | Individual
---
Feel free to contact us with questions and/or comments.