Neillsville's Taytor Lowry Has Two 4th Place Finshes At State And Sets School Record
Monday, June 6th, 2022 -- 10:52 AM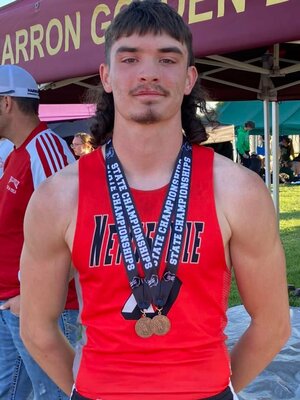 Neillsville senior Taytor Lowry continued to re-write the record books in Neillsville track & field at the WIAA State Track & Field Meet in La Crosse last Friday.
In his first event he finished 4th in the 1600m run with a personal best and new Neillsville school record of 4:23.22.
He then followed that up later in the day with another 4th place finish, this time in the 800m run where he finished with a personal best 2:00.16.
Besides his fine finish at State, over the season, Lowry broke the indoor school records for the 200, 400, 800, 1600, 3200, the Neillsville fieldhouse 800. The Mondovi outdoor facility record in the 800.
He was also a conference champ in the 1600 & 800, a Regional champ in the 1600 & 800 and a Sectional champ in the 1600 & 800m runs.
(photo courtesy of Brittney Lowry)
---
Feel free to contact us with questions and/or comments.