Champions Crowned on First Day of Football Finals
Friday, November 19th, 2021 -- 6:14 AM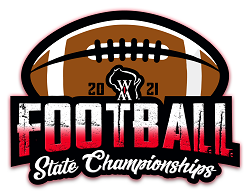 Reedsville (13-1) captured the Division 7 title with a 17-0 victory over Coleman (13-1) without attempting a pass in the championship game. Reedsville wins the school's first State championship in its first appearance in the title game. Coleman finishes runner-up in its first experience at State.
Brent Jeske scored three touchdowns to lead Colby (13-1) to the Division 6 championship with a 22-7 win over former three-time defending champion St. Mary's Springs (11-3) in the title game. The Hornets win their third championship in their sixth finals appearance, and St. Mary's Springs finishes runner-up in its membership-leading 13th appearance.
Aquinas (14-0) held off Mayville (11-3) 28-26 in the championship final to win the Division 5 crown. Blake Schraufnagel rushed for 205 yards for Mayville, which is six yards shy of the Division 5 record. Aquinas quarterback, Jackson Flottmeyer threw for 282 yards, which is the second most in a Division 5 game. Aquinas wins its second championship in as many appearances in the State Finals, and Mayville finishes runner-up in its fifth trip to the finals.
Defending champion Catholic Memorial (14-0) was crowned champion in Division 4 with a 21-12 triumph over Ellsworth (12-1) in the title game. Catholic Memorial wins its fifth State title in its eighth finals appearance, and Ellsworth places runner-up in its second State experience.
The Football Finals continue today at Camp Randall Stadium with the Division 3 game scheduled for 10 a.m., the Division 2 game at 1 p.m. and the Division 1 game at 4 p.m.
---
Feel free to contact us with questions and/or comments.