WIAA State Football Championships Preview - Division 3
Thursday, November 18th, 2021 -- 10:01 AM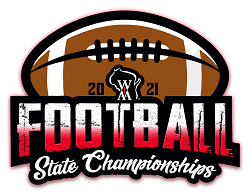 The 45th Wisconsin Interscholastic Athletic Association Football State Championships will be held today and Friday at Camp Randall Stadium on the campus of the University of Wisconsin in Madison. Here's a preview of the Division 3 Championship.....
DIVISION 3
Pewaukee (10-2) vs. Rice Lake (11-2), Friday 10 am - The game will be televised live on Bally Sports Wisconsin.
After posting three straight shutouts to open the playoffs, Pewaukee did give up points in last week's state semi-final win over Monroe, but pulled out a 28-14 victory. Pewaukee celebrates its first-ever appearance in the State championship game. The Pirates were runners-up in the Parkland Conference this season behind Division 4 qualifier Catholic Memorial.
Rice Lake's rushing attack was too much for Menasha last week as the Warriors scored a 36-21 victory. Rice Lake is making its seventh trip to the State final and its first since winning the Division 3 championship in 2017. The Warriors also captured the State title in 1979. The Warriors were co-champions in the Big Rivers Conference with Menomonie this season.
---
Feel free to contact us with questions and/or comments.