3 Motocross Racers From Neillsville Compete In Lake Mills
Monday, October 11th, 2021 -- 9:13 AM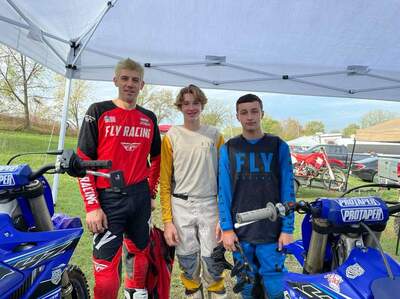 The District 16 motocross racing season came to end in Lake Mills, WI at the Aztalan Cycle Club this past weekend with all of the racers from Neillsville together at the same track to race!
Skylar Melvin (right in photo) ended the season pretty good. He took a 4th overall in the 2 stroke b/c class after taking a hard wipe out in the first moto's start and a 2nd in the 250c class out of 29 riders!
Hudzon Sebesta-Opelt (center in photo) took 9th out of 19 riders in the 2stroke b/c class.
Bryce Backus (left in photo) also made the trip down and ended up getting a 1st overall in +25 Masters and Open A as well as 2nd in the Dash for Cash.
---
Feel free to contact us with questions and/or comments.