WIAA State Girls Golf Championships Preview
Thursday, October 7th, 2021 -- 9:16 AM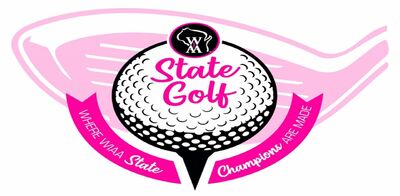 The 50th Annual WIAA Girls State Golf Championships will be held Monday and Tuesday, Oct. 11-12, at the University Ridge Golf Course in Madison. Competition will begin at 8 a.m. on both days. The competition features a two division format with 12 teams and an additional 18 individual qualifiers competing in Division 1 and six teams and an additional nine individual qualifiers participating in Division 2.
TEAMS COMPETING: The schools qualifying for the State meet in Division 1 are Appleton North, Bay Port, Brookfield Central, Brookfield East, Cedarburg, Hamilton, Middleton, New Richmond, Tomah, Union Grove, Waunakee and Westosha Central. The team qualifiers in Division 2 are Arcadia/Independence, Edgewood, Freedom, Prescott, St. Croix Central and The Prairie School.
DIVISION 1 INDIVIDUAL QUALIFIERS: The 18 individuals who have qualified for the State meet in Division 1 are senior Caroline Lewison of Baraboo; senior Abby Busick of De Pere; sophomore Kate Krueger of Divine Savior Holy Angels; freshman McKenna Lowe of Kaukauna; seniors Jenna Anderson and Madeline Fiebig of Kettle Moraine; junior Hannah Dunk of Milton; junior Katie Westbrook of Oconomowoc; seniors Allison Balduzzi and Kiya Bronston of Onalaska; senior Emily Hopp and freshman Addison Sabel of Oregon; senior Ava Wittstock and junior Hannah Miller of Sheboygan North/South; junior Riley Pechinski of Stevens Point; junior Nora Cerroni of Waukesha South/North/West, senior Tess Bruner of Wausau East/West and junior Emily Gastrau of Wauwatosa East/West.
DIVISION 2 INDIVIDUAL QUALIFIERS: The nine individual qualifiers in Division 2 are junior Lilly Kaminski of Denmark; senior Gillian Johnson of Hayward; sophomore Payton Schmidt of Jefferson; junior Ava Heckmann of Lakeside Lutheran; sophomore Brianna Kirsch of Lancaster; sophomore Ava Pesha of Somerset; junior Sydney Greenfield of Spooner; junior Danielle Bruecker of Wrightstown; and sophomore May Shimek of Xavier.
LAST YEAR: Brookfield Central won the Division 1 State team title with a 27-hole score of 516. Waunakee and Arrowhead tied for the runner-up position at 526. Jessica Guiser of Arrowhead was the individual champion, winning a tiebreaker over Elise Hoven of Cedarburg. Both shot a 119 for the 27 holes.
Prescott captured the Division 2 crown, finishing with a 27-hole total of 560. The Prairie School placed second with a score of 579. Lauren Haen of Xavier won individual medalist honors by shooting a 125, one stroke ahead of Ava Salay of Prescott, who finished with a score of 126. Middleton was the champion of the 2020-21 Alternate Fall tournament last spring with a 36-hole score of 640, one stroke better that Bay Port, which finished runner-up with a 641. Jo Baranczyk of Bay Port was the individual medalist with a score of 143. It was the third State championship in her career. Ellie Frisch of Middleton was second with a score of 154.
INDIVIDUAL PREVIEW-DIVISION 1: There are numerous golfers with quality State Tournament experience vying for medalist honors. Senior Ellie Frisch of Middleton qualifies for the fourth time. She finished runner-up in the alternate season in 2020-21 and was 18th in 2019 after a 20th-place standing in 2018. Junior Norah Roberts of Union Grove sophomore and Kylie Walker of Westosha Central tied for third last year. Junior Hannah Dunk of Milton finished fifth at the alternate season championships, and junior Brin Neumann of Tomah and senior Sarah Balding of Brookfield Central battled to a sixth-place tie in 2020. Balding is a four-time qualifier, finishing 52nd in 2018 and runner-up in 2019. Neumann also qualified in 2019, tying for 26th. Senior Avery Dudra of Bay Port was seventh in the alternate season tournament after tying for 28th in 2019, and senior Jenna Anderson of Kettle Moraine was eighth in 2020 following a 25th-place finish in 2019. Senior Sophie Pokela of Tomah and sophomore Madison Haugen of Brookfield East both return after tying for ninth in 2020. Sophomore Vivian Cressman of Middleton also earned a top-10 position with a ninth-place finish in the alternate season. In addition to Anderson, the sectional champions competing to be in the mix for medalist honors are junior Emily Gastrau of Wauwatosa East/West; sophomore Adalyn Johnston of Bay Port, who won the Wausau East/West Sectional after an 11th-place tie during the alternate season last spring; junior Riley Pechinski of Stevens Point; sophomore Izzi Stricker of Waunakee, who won the Oregon Sectional after tying for 13th at State in 2020; Senior Ava Wittstock of Sheboygan North/South, who earned medalist honors at the Hartford Sectional after tying for 11th during the alternate season last spring.
INDIVIDUAL PREVIEW-DIVISION 2: Five of the top seven finishers from last season's championships return for another shot at the gold medal. The top returning finisher from last season is junior Ava Salay of Prescott, who has finished runner-up the past two seasons. Junior Sophia Lawler of The Prairie School seeks the title after placing in a tie for third last season. Senior Sally Vangsness of St. Croix Central qualifies for State for the third time. She finished fifth a year ago after placing tied for sixth in 2019. Senior Callie Berg of Freedom and junior Rhi Stutz of Prescott are back at State after tying for sixth last season. Berg also qualified in 2019 and tied for 17th. In addition to Salay and Lawler, another in pursuit of a State title following her sectional title is senior Hallie Tulip of Arcadia/Independence, who won the Wisconsin Dells Sectional and placed 11th last season and 22nd in 2018.
---
Feel free to contact us with questions and/or comments.