More Officials And Better Fan Behavior Needed
Wednesday, April 28th, 2021 -- 12:38 PM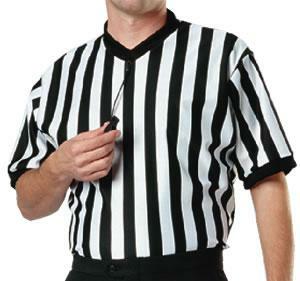 Recently, Karissa Niehoff, Executive Director of the National Federation of State High School Associations and Dave Anderson, Executive Director of the Wisconsin Interscholastic Athletic Association collorated on an op-ed to make light of the lack of officials and bad fan behavior at the high school level. Here are some of the highlights of the piece.....
With spring sports underway and a hope for normalcy by the fall season there is one glitch. An ever-increasing issue that could put a kink in the return-to-play plans in Wisconsin and across the country – a shortage of officials, as in referees and umpires, that borders on catastrophic in some sports and in some parts of the nation.
According to the National Association of Sports Officials (NASO), registration of officials across the country is down about 30 percent this year. In Oregon, the number of football referees has dropped 34 percent compared to last year, and volleyball is down 45 percent. In a football officials association in California, nearly two-thirds of its members opted out of officiating this year.
Tennessee and Georgia have reported declines in baseball umpires. In one county in Georgia, one middle school had to cancel its baseball season due to a lack of umpires.
In some cases, the number of available officials has declined due to health-related reasons – people opting out this year because of the pandemic.
As vaccinations increase and the optics improve, many of these individuals hopefully will return.
For other officials, however, the pandemic was a secondary concern compared to the verbal abuse they receive from fans – mostly parents. It is particularly hard for rookie officials to overcome the verbal shots they hear from parents.
Schools in Wisconsin need two things: 1) more individuals to consider officiating high school sports and 2) an improvement in fan behavior so that officials don't have to deal with verbal abuse and can feel good about continuing to officiate. Despite the fun and rewards that come with officiating high school sports, no one wants to continue if they are continually berated by fans.
The NFHS has been actively recruiting officials for four years through its #BecomeAnOfficial campaign. More than 50,000 individuals have expressed interest in officiating during this time. However, more individuals are desperately needed to keep the games going for the millions of students in middle school and high school sports. Anyone can sign up today to become a WIAA-licensed official at www.wiaawi.org/Officials/Become-an-Official.
The next time you think about yelling at the referee during a high school contest, DON'T!
---
Feel free to contact us with questions and/or comments.