Two Neillsville Athletes Sign Letters Of Intent To Play Collegiate Sports
Monday, March 15th, 2021 -- 8:23 AM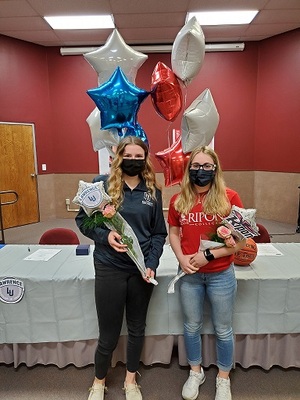 Two Neillsville Student-Athletes signed letters of intent to play sports in college on Sunday evening. Lizzy Jorgenson signed a letter of intent to play hockey at Lawrence University in Appleton. Lizzy will also play softball for the Vikings. Bella Opelt signed a letter of intent to play basketball at Ripon College.
Neillsville Athletic Director Matt Diestler not only made mention of the athletes moving on to the collegiate level but also recognized their parents and all the time and effort that they put into their daughter's participation in their particular sport.
Lizzy was a three-sports athlete at Neillsville High School, competing in cross country, hockey, and softball. Riley Smith, head coach for the Black River Falls co-op girls hockey team, said that Lizzy was "a coaches dream as a super hard worker on and off the ice, someone you could trust to lead by example in the locker room." Lizzy was nominated as a finalist for the Rachel Kenyon Award which is the unsung hero award.
Lawrence University is an NCAA Division III college, located near downtown Appleton, is a residential liberal arts college and conservatory of music, both devoted exclusively to undergraduate education. The enrollment is approximately 1500 students.
Bella was also a three-sport athlete at Neillsville High School in volleyball, basketball and softball. She was also a WIAA and Cloverbelt Conference Scholar-Athlete, voted to the Cloverbelt All-Conference 1st team and player of the year this past season and is a Channel 7 All-Star. Neillsville head girls basketball coach John Gaier said the first word that comes to his mind when talking about Bella is "winner". He said that Bella helped Neillsville win 3 Regional Titles, and 2 Cloverbelt Conference Titles. Gaier said that "Bella played best, when we needed her the most." Gaier said he tells kids there are two things athletes need to understand - The want-to and the how-to. Kids have to bring the want to, coaches can teach the how to. He said Bella brought the want-to - everyday. Bella is only the second 1,000 point scorer in Gaier's reign as head coach. Neillsville finished 82-14 in Bella's four years as a starter.
Ripon College is a Division III Liberal Arts college located in Ripon, WI - Student enrollment is approximately 800 students.
---
Feel free to contact us with questions and/or comments.