Neillsville Boys Are Regional Champs/Other Regional Final Scores
Saturday, February 20th, 2021 -- 9:13 PM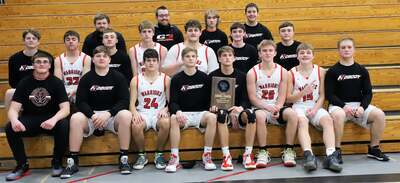 The Neillsville boys basketball hung on to beat Stratford on Saturday night 38-36 in a Division 3 Regional Final.
The Warriors led 20-15 at the half, thanks to the inside scoring of Mason Roenz who had 10 first half points. Stratford used a 1-3-1 zone that forced Neillsville outside and Roenz and their other post player, Santana Subke did not get as many touches. With Neillsville's leading scorer, Braden Trunkel, held in check with just 7 points, Andrew Brown stepped up and led the Warriors with a game high 17 including a tough short jumper that put them up by 1 late in the game. Roenz added 13 points for Neillsville. Camden Daul led Stratford with 12 points. Neillsville improved to 16-5 and will now play in a Sectional Semi-Final on Thursday.
Other area Regional Finals on Saturday:
Division 5
McDonell 71, Owen-Withee 50
Prentice 61, Newman Catholic 57
Port Edwards 64, Columbus Catholic 59
Division 4
Fall Creek 52, Spring Valley 47
Iola-Scandanavia 67, Auburndale 55
Blair-Taylor 68, Whitehall 44
Division 2
Altoona 59, Somerset 54
(photo courtesy of Sandy Schmidt)
---
Feel free to contact us with questions and/or comments.