Butch Quicker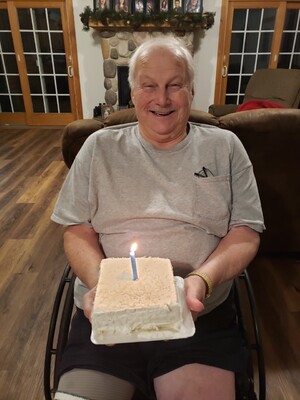 Gene G. "Butch" Quicker, age 75, of Granton, WI, passed away peacefully at the Marshfield Medical Center in Marshfield, WI, on October 29, 2023.
Butch was born on October 16, 1948, to Reinhart and Vivian (Renne) Quicker. He attended Granton School, and then served in the United States Navy from 1969-1971, stationed in Corpus Christi, TX.
On November 4, 1972, Butch married Evelyn Durst at St. Mary Catholic Church in Neillsville, WI. Butch and Evelyn welcomed three children to the world, Bridget, Scott and Kimberly. Together they built a life full of love. Butch worked various jobs throughout his life. He retired from Wisconsin Homes in 2013. Butch and Evelyn owned and operated Quicker's Bar in Lynn, WI, from 1995 to the present. He enjoyed talking with his customers, telling jokes and sharing stories.
Butch also enjoyed taking his boat out on the lake to fish with his wife and good friend, Gerald. Butch looked forward to deer hunting season, when he loved to go hunting with his son, Scott. Butch enjoyed his weekly trips to the casino, and traveling out west. Butch loved his family so much and was so proud of all of his grandchildren.
Butch is survived by his loving wife, Evelyn, his children, Bridget (Shawn) Zawislan of Unity, WI, Scott Quicker of Granton, WI, Kim (Jon) Patefield of Marshfield, WI, his grandchildren, Brandi (Nick) Lueddecke, Brittney (Sam) Schmitt, Brandon Zawislan, Breanne Zawislan, and Brielle Zawislan, Alex (Oliva) Patefield, and Leann Patefield, and his grand dog, Duke, and many nieces and nephews.
Butch was preceded in death by his parents, Reinhart Quicker and Vivian Schultz, his step-dad, Archie Schultz, his brothers, James Quicker and Walter (Jeanette) Quicker.
A Memorial Service for Butch will be held at 12:00 p.m., Tuesday, November 7, 2023, at the Gesche Funeral Home in Neillsville. Pastor Terry Marg will officiate. Military Honors will be performed by the Neillsville Veteran's Council. Interment will be in the Town of Lynn Cemetery at a later date. Visitation will be from 10:00 a.m., to 12:00 p.m., Tuesday at the Gesche Funeral Home.
Online Condolences may be made at www.geschefh.com.
The Gesche Funeral Home is assisting Butch's family with funeral arrangements.
---
Feel free to contact us with questions and/or comments.
Obituaries Archive