Lornamae Dodmead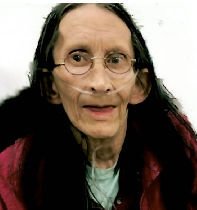 Lornamae, age 72, born in Neillsville, Wisconsin in 1951 to Elmer and Regina Dodmead. Lornamae passed away peacefully at the Ellsworth Health Service surrounded by her children on September 17, 2023.
Lornamae, also known as "Tiny," was small in size but mighty in heart. At the time of her birth, it was said she could fit in a cigar box because she was so small. Lornamae married twice in her life and was the mother of five daughters and one son. She was a grandmother, great grandmother, aunt, friend, and so much more. She worked the majority of her life as a CNA and in other helping fields.
Lornamae Dodmead loved the old country music, 50's and 60's, and dancing with her children. Her passion for life came through in her encouraging words to "never give up." As life was ending, she did not fear death. Her only concern was for her children and grandchildren. Lornamae knew that life was short and that relationships were important, and she showed her family unconditional love, acceptance, and gratitude. Her big heart was her biggest asset.
Lornamae Dodmead is survived by her children, Patty Johnson, Tina Lee (Addam), James Neville Jr (Olena), Dorchel Neville (Isaac), Koral Neville, Lorie Segura (Juan), 18 grandchildren, 10 great grandchildren, cousins, nieces, and nephews.
She is proceeded in death by her parents: Elmer and Regina Dodmead (Smitke), siblings: Elmer Dodmead Jr, Richard Dodmead, Kenneth Dodmead (Jenny), and Carlynan Szaflarski (George), Grandson Drake Leonhard, and great granddaughter, Beautiful Yeager, and a special friend, James J. Neville Sr.
Lornamae will be laid to rest at the Dells Dam Cemetery, in Neillsville Wisconsin on September 23, 2023. Her funeral services will be at Gesche Funeral Home located at 4 South Grand Avenue, Neillsville, WI 54456 with visitations starting at 10am and services at 11am, a luncheon will follow.
The family would like to thank St Croix Hospice, Ellsworth Health Services, Gesche Funeral Home, and all the kind words from friends and family.
Online Condolences may be made at www.geschefh.com.
The Gesche Funeral Home is assisting Lornamae's family with funeral arrangements.
---
Feel free to contact us with questions and/or comments.
Obituaries Archive