Louis Kessler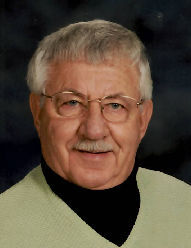 Louis (Lou) William Kessler, 91, of Neillsville passed away at Riverside Assisted Living after a lengthy illness August 27th, peacefully, surrounded by his loving family. Lou was born in 1931 to parents Carl and Clara (Wasserburger) Kessler of Neillsville, WI.
Lou attended St. Mary's Catholic grade school and graduated from Neillsville High School in 1950 where he enjoyed participating in sports, FFA, and had a wide group of friends. During his senior year, he caught the eye of a special girl, Shirley Davis, and they married in 1954 at St. Mary's Catholic Church in Neillsville, where the family were lifelong members.
Lou grew up dairy and crop farming with family on the outskirts of Neillsville. He enjoyed a long successful career primarily in agriculture-related businesses. First with Grassland Feeder Pigs, working with his brother Leo and cousin Harris Schoengarth, as a dealer buying feeder pigs and selling them to finishing farms primarily in Iowa. He won many wagers from farmers for accurately guessing the weight of a wiggling pig just by lifting it up by its back foot. He translated that in later years to guessing the weight (accurately!) when holding his young grandchildren. Later, he was a salesman for Harvestore Systems for many years, earning several awards and trips he took with Shirley and friends. He then sold water systems for Kinetico. Over the years Lou knew most of the farmers in Clark and surrounding counties.
He was very active socially and physically. Lou served in the National Guard 32nd Division in the 1950s. As longtime members of the Neillsville Country Club, he learned the game of golf at age 26 and played regularly with Shirley, their children, and countless friends. He enjoyed bowling and played in the softball "Liniment League" for many years. He coached his sons for Little and Big-League baseball and for St. Mary's School football. In his later years he was tapped by St. Mary's Parish to serve as St. Nicholas each December and fully embraced his role. He was also a Knight of Columbus and regular usher for the church. He volunteered at The HighGround Vietnam Veteran's Memorial. Lion's Club, Jaycee's, and the Neillsville Men's Club were all important activities for Lou.
In 1972 Lou and Shirley purchased the Silver Dome Ballroom in Neillsville and hosted weekly polka dances, rock bands, wedding receptions and other civic events for 28 years. He was very proud of their ownership and stewardship of the unique and historic building.
To his family and friends, he was "Big Lou." When people met him, they all remembered his strong handshake. He was generous with his time and always ready with a witty joke or retort. He adored his children, grandchildren and great grandchildren, attending many concerts, plays, sporting events and just enjoying their time together.
He was preceded in death by his parents, Carl and Clara (Wasserburger) Kessler, brothers and sisters Leo, Carl Jr., Ken, Mildred Schwellenbach and Elaine Hass; brothers-in law Ronald Davis, Forrest Larsen and Ernie Schwellenbach; sister-in-law Maggie Kessler and son Steven ("Little Lou").
He is survived by his adoring wife Shirley of Neillsville, WI; sister, Angie Larson, Neillsville, WI, sister-in-law Linda Davis, Eau Claire, WI; children Shari (Richard) Brauch, Monticello, MN; Jeffrey (Sara) Kessler, Onalaska, WI; Jane (Dan) Flynn, Eau Claire, WI; grandchildren Clare (Kellen) Clawson, Mount Juliet, TN; Sloan Kessler (Jordan Entwisle), St. Louis Park, MN; Bennett (Lindsay) Kuhlman, Chippewa Falls, WI; Briana Kuhlman, St. Paul, MN; step-grandson Carson (Meghan) Flynn, Durham, NC. He was a very special "GGpa" to his great grandsons James and Decker Clawson and Declan Kuhlman. He is also survived by cousins and many nieces and nephews.
Shirley and the family thank the staff of Riverside Assisted Living in Neillsville and the hospice team of Compassus for taking such great care of Lou/Dad/Grandpa/Great Grandpa.
A Mass of Christian Burial will take place on Saturday, September 16th at St. Mary's Catholic Church in Neillsville with a visitation from 9:30-10:30 a.m. followed by Mass at 10:30 a.m. A private gravesite burial will follow. Memorials can be directed to the La Crosse Diocese Seminarian Vocations program or recipient of the donor's choice.
Online Condolences may be made at www.geschefh.com.
The Gesche Funeral Home is assisting Louis's family with funeral arrangements.
---
Feel free to contact us with questions and/or comments.
Obituaries Archive