Rueben Garbisch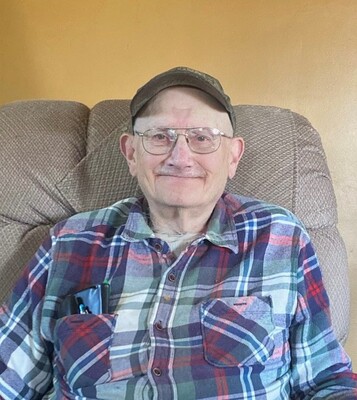 Rueben Garbisch, age 91, of Granton, WI died Tuesday, March 21, 2023, at the Marshfield Medical Center in Marshfield, WI.
Rueben Arthur Garbisch was born on September 20, 1931, in Granton, the son of the late Bernard and Bertha (Helm) Garbisch. He attended the Romadka School in the town of York and in 1949 graduated from Loyal High School. He was the last survivor of the barbershop Quartet the Minor Chords. He joined the United States Army on December 3, 1953 and served in Korea, during the Korean War. He was honorably discharged on November 22, 1955. On March 29, 1958, he was united in marriage to Judith Plummer. In 1960, Rueben and his wife purchased the family farm, which he owned until 2013.
Rueben enjoyed Farming, Auctions, EAA , airplanes , videotaping and many stories of the family Cabin in the woods with the mile long homemade railroad tracks
He is survived by his children Luann Solberg, James (Jody Holbrook) Garbisch, Robert (Deborah) Garbisch, and Twins Tammy (Gary) Anderson, Tommy (Christine) Garbisch
Grand Children: Billy Joe (Lisa) DeLong, Jada (Dave) Barr, Jason, Stephanie & Jamie Garbisch, Shana Hamm, Jennifer (James)Harwood, Kayla (Dylan) Frisch, Bjorn, Benjamin & Christopher Anderson, Isabelle Garbisch, 14 Great Grandchildren, Nieces & Nephews
Rueben was preceded in death by his wife, Judy, his parents; two brothers, Harold and Bernard (Wanda) Garbisch; and two sisters, Elenora (Leland) Reich and Ruth (George) Severson.
Funeral Services for Rueben will be held at 11:00 a.m., Friday, March 24, 2023 at the Zion Evangelical Lutheran Church in Granton, WI. Pastor Daniel Schoessow will officiate. Interment will be in the Zion Evangelical Lutheran Cemetery in Granton. Visitation will be from 10:00 to 11:00 a.m., Friday at the church.
Honorary Pallbearers; Lenny Reich, Billy Joe Delong, Chuck Tompkins, Sam Miller.
Pallbearers: Jason Garbisch, Ben Anderson, Chris Anderson, Ben Garbisch, Joel Garbisch, Shane Sprecher.
Online Condolences may be made at www.geschefh.com.
Gesche Funeral Home and Cremation Service is assisting Rueben's family with Funeral arrangements.
---
Feel free to contact us with questions and/or comments.
Obituaries Archive