Dorothy Larsen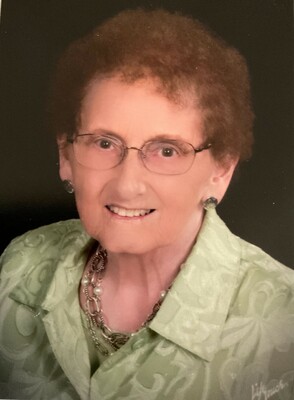 Dorothy L. Larsen, 96, passed away peacefully on March 11, 2023 at the Neillsville Retirement Community.
Dorothy Lee Severson, the first child of George and Mabel (Gilbertson) Severson, was born February 16, 1927 at the family farm near Ogdensburg, WI. Dorothy was baptized and confirmed at Our Savior's Lutheran Church in Iola. She attended a one-room schoolhouse for grades 1-8 and graduated from Iola High School in 1944. She continued her education at Stevens Point State Teachers College (now UW- Stevens Point), graduating with a bachelor's degree in 1948. She taught elementary school in Wausau, and at a one-room school near Manawa.
Dorothy was introduced to her future husband, Royce Lee Larsen, by a mutual friend. In 1944, when Royce was in the army, she saw his name on the wall in the local post office. (No, he wasn't "Wanted.") It was common during WWII to post names and military addresses of local GIs in hopes that those back home would write letters to them. Dorothy remembered having met Royce and decided to write a letter. He wrote back, and thus began a long-distance romance. They were married on June 11, 1948. In later years Royce remarked that he had never seen his name written so beautifully as on that first envelope he received from Dorothy.
Before long, Dorothy found herself a full-time homemaker and busy mother of three. The family moved to Neillsville in 1961. A few years later, she began working for the Farmers' Home Administration (FHA) as a loan processor, retiring in 1987. She enjoyed her job because she loved meeting people, and she became acquainted with hundreds of families in Clark County through FHA.
Dorothy was often found volunteering at her church, Calvary Lutheran. She was active in the women's ministry and other groups. Following retirement, she was a long-time member of the quilting group at Calvary, sewing 850 quilt tops over the years. In addition, she made hundreds of lap quilts, bed quilts, and crib quilts for family members (including their pets) and for many friends. She also volunteered at the Bloodmobile, the Aging Office, and was a 50+ year member of her Homemaker's Club. A favorite activity for decades was "Tuesday morning coffee" with neighborhood ladies. Dorothy was an avid reader and liked solving crossword puzzles. Her greatest love was her family.
Dorothy and Royce enjoyed their travel trailer for many years, taking trips as far as Florida and California to visit family. They often camped at their property near Fifield, and took their grandchildren camping every summer, making lasting memories for the kids. They were married nearly 67 years until Royce's death in 2015.
An amazing woman of deep faith, strength, and perseverance, Dorothy was the rock of her family, keeping everyone connected. For a family that numbered 30, she remembered everyone at Christmas, birthdays, anniversaries, graduations, and other milestones. Her devotion to family inspired her to acquire a computer in her later years so that she could communicate by email with her children, grandchildren, cousins, and friends. And communicate she did! Her fingers flew across the keyboard (she wore the letters off the keys) and she sent email messages many times each day. She often remarked that she would have been quite lonely if she hadn't learned computer skills to stay in touch with those she loved. Dorothy lived in her own home until August 2022, when she moved to Neillsville Retirement Community.
Dorothy was dearly loved and will be missed by her family. Surviving are three children: Tana (Frank) Schimberg, Brentwood, CA; Rhonda (Rudy) Forjan, Eustis, FL; and Jay (Mary Jo) Larsen, Shakopee, MN; six grandchildren: Jason (Valerie) Pischer, Katy Furnas, Hannah Larsen (Hershall Brown), Shawna (Christian) Mendenhall, Nicholas (Jamie) Larsen, and Molly (Corey) Eidem; three step-grandchildren: Lisa (Nick) Reid, Scott (Michelle) Schimberg, and Aaron (Amanda) Forjan; thirteen great-grandchildren: Hudson and Ryan Pischer; Jackson, Jordan, and Jett Furnas; Paris Ower; Alivia, Amelia, Jameson, and Jude Larsen; and Mazie, Lena, and Finn Eidem. She was predeceased by her parents, husband, and brother, George Severson, Jr.
The family extends heartfelt gratitude to many "angels" who assisted Dorothy in her later years: devoted caregiver Sandy; neighbors and unfailing friends Doug and Sharon; loving friends Kim, Peggy, Wanda, Dorothy, Carrie, and many others. Further gratitude goes to the compassionate staff at Neillsville Retirement Community and at Black River Falls Hospice. Memorial gifts may be directed to Calvary Lutheran Church, Neillsville; to Black River Falls Hospice; or to St. Jude's Hospital for Children.
A celebration of Dorothy's life will take place at Calvary Lutheran Church on July 29, 2023, with visitation at 10:00 a.m. and service at 11:00 a.m. Inurnment will be at Our Savior's Cemetery in Iola.
Online Condolences may be made at www.geschefh.com.
Gesche Funeral Home and Cremation Service is assisting Dorothy's family with Funeral arrangements.
---
Feel free to contact us with questions and/or comments.
Obituaries Archive