Thelma June Schmitz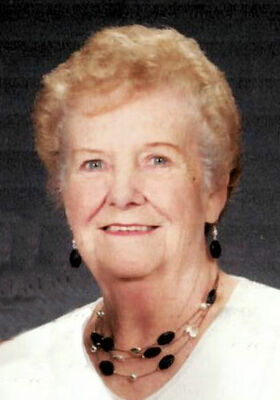 Thelma June Schmitz (Nee Ott) age 89, was called home on February 11, 2023, to be united with her Husband and Son, Daniel in Heaven.
Thelma was born on June 24,1933 in Neillsville Wi. to Walter and Thelma (Bulgrin) Ott. She was Baptized July 6,1933, and Confirmed on April,1947, at St. John's Lutheran Church in Nasonville, Wi. She attended Nasonville and Marshfield Schools, and Technical College in Eau Claire. She married Lamar Schmitz, her high school sweetheart, in 1949. They had 5 children. Dan went to Heaven in 1972.
Survived by Dick (Beth), Duane (Lynn), Dean, Darla June (Grant). Thelma and Lamar had 9 Grandchildren and 15 Great Grandchildren. She and Lamar worked on the family farm from 1949 to1953. In 1964 they moved to Neillsville and bought a grocery store and turned it into a meat processing plant called Schmitz Family Market for 10 years, later it was turned into Restaurant called Mr. Schmitty's Family Restaurant for another10 years. Thelma worked at the MMC Home for 10 years. She then went back to school to get her Real Estate License where she Worked in Real Estate with Tieman Realty for 25 years. Her hobbies were Camping and playing Mrs. Santa Clause, most of all her favorite time was spending time with her Children, Grand and Great Grandchildren.
Funeral Services for Thelma will be held at 11:00 a.m., Thursday, February 16, 2023, at St John's Evangelical Lutheran Church in Neillsville Pastor Timothy Biebert will officiate. Music will be provided by Judy Trunkel, organist. Visitation will be from 4 :00 to 7:00 p.m., Wednesday at the Gesche Funeral Home and from 10:00 to 11:00 a.m., Thursday at the church. Interment will be in the Town of Lynn Cemetery.
She was preceded in death by her husband Lamar of 63 years, and son, Daniel, parents, Walter and Thelma Ott, sister, Jeanette and husband, Orville Hansen, Elaine and husband Norman Meissner, and sister Judy Smith.
All Grandchildren will be pallbearers: Rick, Luke, Joe, Sam, David, Alex, Aric. Tina and Rachel. Honorary casket bearers are Great Grand Children Travis, Kayla, Corinne, Dayton, Daisy, Lily, Adaline, Alaia, Aiden, Millie, Mila, Xavier, Harmony, Sapphire and Henry.

Online Condolences may be made at www.geschefh.com.
Gesche Funeral Home and Cremation Service is assisting Thelma's family with Funeral arrangements.
---
Feel free to contact us with questions and/or comments.
Obituaries Archive