Colleen C. Zuehlke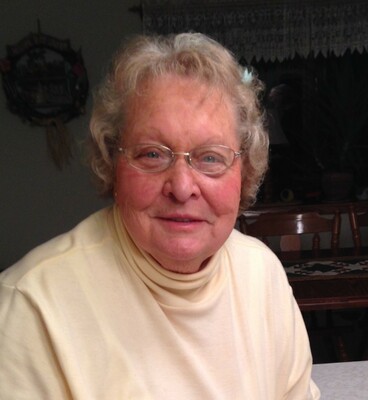 Colleen Zuehlke, age 89, of Granton, WI died Friday, January 6, 2023, at the Marshfield Medical Center in Marshfield, WI.
Colleen Cecelia Copet was born on May 18, 1933, in Spencer, WI, the daughter of Loren and Agnes (Ramer) Copet. On March 29, 1952 she was united in marriage to Leon A. "Lee" Zuehlke. They were married for 63 years before Leon died in 2015.
She is survived by two children, Sherry (Steven) Shapiro of Bakersfield, CA, and Sarah (Jeff) Komis of Chili, WI, three grandchildren, Nicholas (Febe) Shapiro of Los Angeles, CA, Emma (Mike) Arensman of Randolph, New Jersey, and Warren (Brandy) Komis of Chandler, AZ, three great grandchildren, Cal Arensman and Waylon and Madilyn Komis, and a sister-in-law, Carol Copet of Marshfield, WI.
She was preceded in death by her parents, her husband, Leon, a son, Terry Zuehlke, sisters Patricia Roider and Bonnie Miller, a brother, James Copet, a brother-in-law, Ralph Roider, and special friends, Daisy and Mippy.
Colleen enjoyed creating large meals for her family and various sweet treats were always available from the oven. She enjoyed sewing and crocheting, but her great passion was for gardening – updating and adding onto the numerous flower beds and trees in her yard. To her family, she was a "force of nature" – possessing a strong will, but an enormously kind heart. She will be greatly missed.
The family would like to extend their gratitude to the staff and residents of the Colonial Health and Rehabilitation Center in Colby, Wisconsin for the excellent care and new friendships during her stay.
Funeral Services for Colleen will be held 11:00 a.m., Friday, January 13, 2023, at the Good Shepherd Lutheran Church in Marshfield, WI. Pastor Katie Anderson will officiate. Music will be provided by Holly Pisors, organist. Interment will be in the Town of Lynn Cemetery in Granton, WI. Visitation will be from 10:00 to 11:00 a.m., Friday at the Good Shepherd Lutheran Church in Marshfield.
Online Condolences may be made at www.geschefh.com.
Gesche Funeral Home and Cremation Service is assisting Colleen's family with Funeral arrangements.
---
Feel free to contact us with questions and/or comments.
Obituaries Archive