Harold D. "Pete" Ewing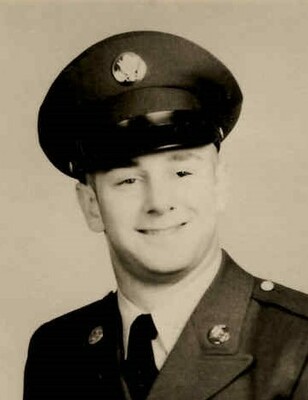 Harold "Pete" Ewing, age 82, of Neillsville, WI, died Thursday, November 3, 2022, in the
Emergency Room of the Marshfield Medical Center in Neillsville.

Harold Dennis Ewing was born on August 10, 1940, in Neillsville, WI the son of Earl and Mabel
(Finder) Ewing. He was educated in the Neillsville school system until he joined the United
States Army in March of 1958. He was 17 years old. He served in the army for three years, one
in the United States and the other two in Germany. While in the service, he completed his high
school education. He was with the signal corps then transferred to the military police until he
was honorably discharged in January of 1961. On March 24, 1962, he was united in marriage to
Sue Ann Mallory, also of Neillsville, at St. John's Evangelical Lutheran Church. They bought a
house at 306 Grand Avenue, where they lived the rest of their lives. Shortly after they purchased
their home, Pete started working with Warren Medike Plumbing. He worked there until passing
the Wisconsin's Master Plumber's exam on August 10, 1970. A short while later, he started his
own business under the name of Ewing Plumbing and House of Plumbing.

He suffered a heart attack in October of 1982. After the attack, he started H&S Liquidators and
H&S Discount Stores. Pete and Sue ran their stores in Neillsville, Loyal, Owen and Abbotsford
until 1991, at which time he restarted his plumbing business.
The business is still running under
the name of Ewing Plumbing now being run by his son, Michael Ewing.

Pete was instrumental in keeping the "Christmas Star" above the old water tower by the
Neillsville High School lit.

He is survived by his wife, Sue Ann, four children, Julia (Robin Weideman) Wojner of Curtiss,
WI, Dennis Ewing of Wausau, WI, Michael Ewing of Neillsville, WI and Bradley (Maryjo)
Ewing of Black River Falls, WI, six grandchildren, Derek, Kristopher, Britni, Hoyt, Sawyer and
Crispin. Pete is also survived by a sister, Margaret Michalak of Neillsville, WI.
He was preceded in death by three infant daughters, Marilyn, Carol and Barbara his father, Earl
Ewing, his mother, Mabel Kozlowski and a brother-in-law, Walter Michalak.
Funeral services for Pete will be held at 11:00 a.m., on Monday, November 7, 2022, at the
Gesche Funeral Home in Neillsville, WI. Pastor Douglas Bjerke will officiate. Music will be
provided by Sharon Bjerke organist. Interment will be in the Neillsville City Cemetery.
Visitation will be from 4:00 to 7:00 p.m., Sunday and from 10:00 to 11:00 a.m., Monday at the
Gesche Funeral Home.

Pallbearers are: Matt Guegzke, Judy Guegzke, Joanne Mueller, Richie Mueller, Jim Schmitt and
Ceil Jandre.

Online Condolences may be made at www.geschefh.com.

Gesche Funeral Home and Cremation Service is assisting Pete's family with Funeral
arrangements.
---
Feel free to contact us with questions and/or comments.
Obituaries Archive