Bernard Walker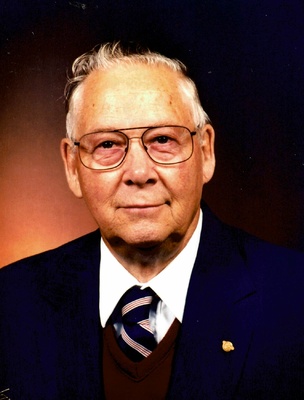 On Thursday October 20, 2022, Neillsville lost a proud veteran and friend to many Bernard Earl Walker age 95.
Bernard was born May 17, 1927, prematurely at the home of Dewey and Viola Walker in Neillsville, Wisconsin. In his youth he attended BlackBerry school in the town of Seif. At age 15 he left school to work on a farm in Osseo, WI and with an adventurous desire, traveled for work with his brother, Dewey to North Dakota to pick potatoes. At age 18, he continued his worldly education by entering into the military seeing the end of World War II. He proudly served in Italy and Switzerland. Bernard had many stories he liked to share of his travels and adventures in the service. One of his most cherished and memorable experiences when he was in his 80's was to travel to Washington DC on the Never Forgotten Flight to see the WWII Veterans Memorial.
He met the love of his life for eternity, Dolores Ilean Shoengarth, after returning from the service. They married March 10, 1951, at the Fairchild United Methodist Church. They were a couple that enjoyed life doing things together and were rarely seen apart. They were fortunate to celebrate 71 wonderful years together. As a team they bought and farmed the Walker family farm in Willard, Wisconsin for 18 years. Here is where they raised their three children, Dennis, Don, and Diane. As parents they passed on their dedication to family and friends, love for life, humor, and hard work. While farming, Bernard also worked other jobs to supplement the family earnings. He drove a milk truck, worked at Suda's Feed Mill in Willard, and for a time drove to Neillsville to work at Nelson muffler. In 1969, they sold the farm and moved to Neillsville to continue his work at Nelson muffler until he retired in 1989 after 22 years. With more free time Bernard and Dolores enjoyed many fun times at rock lake with their permanent camp spot, fishing, gardening, traveling, and woodworking. They traveled to Alaska, Florida, Grand Canyon, New York, and other spots in the USA.
Bernard was dedicated and proud to be an American Legion veteran member. He volunteered in leadership roles for 20 years. He organized and participated as Sergeant of Arms, proudly carrying the flag for the many summer parades, military funerals, and veteran's celebrations. He and Dolores volunteered into their 80's, helping to put on the Friday night fish fries, pancake, and smelt feats. They were known to have peeled 100 pounds of potatoes and cleaned 600 pounds of smelt all with a smile and fun. As long as they were together and with friends, they were happy. Bernard will be missed by his many friends and relatives.
He is survived by his wife, Delores, three children, Dennis (Linda) Walker of Neillsville, Donald (Julie McQuade) Walker of Neillsville and Diane (Steve) Walker of Wausau, WI, seven grandchildren, 14 great grandchildren, and a sister, Dorothy Weisman of Georgia.
He was preceded in death by his parents, a daughter-in-law, Gail Walker, two brothers, Harold (Velda) Walker, Dewey (Evelyn) Walker, a stepsister, Alice (Clifford) Williams, and a brother-in-law, Martin Weisman.
A Memorial Service for Bernard will be held at 11:00 a.m., on Thursday, October 27, 2022, at the Gesche Funeral Home in Neillsville. Pastor Terry Marg will officiate. Interment will be in the Neillsville City Cemetery at a later date. Visitation will be from 10:00 to 11:00 a.m., Thursday at the Gesche Funeral Home. Military Honors will be performed by the Neillsville Veteran's Council. A livestream of the memorial service and military honors for Bernard can be viewed at www.geschefh.com beginning at 11:00 a.m., on Thursday, October 27, 2022.
Honorary pallbearers will be: Dallas Walker, Nick Walker, Blaine Montgomery, Darin Kurth, Trampas Walker, Schuyler Gantert and Kurt Engelen.
Online Condolences may be made at www.geschefh.com.
Gesche Funeral Home and Cremation Service is assisting Bernard's family with Funeral arrangements.
---
Feel free to contact us with questions and/or comments.
Obituaries Archive