Marilyn Marty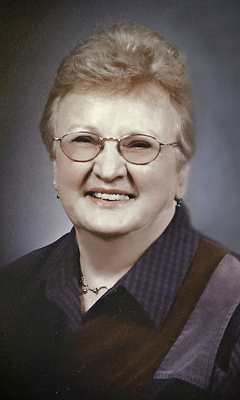 Marilyn Marty, age 83, of Neillsville, WI died Friday, October 21, 2022, at the Marshfield Medical Center in Marshfield, WI.
Marilyn Jane Wildish was born on February 22, 1939, in Neillsville, WI the daughter of Everett and Belle (Booth) Wildish. She attended Neillsville High School and was united in marriage to Robert M. Marty on August 13, 1955, at the United Methodist Church in Neillsville. Once married they farmed in the Town of Grant, and Marilyn also kept the books for her husband's business, Bob's Masonry, served as the clerk for Randy and Julie Reineck's business, R&J Auction, and as a voting clerk for the Town of Grant, during elections. They sold their farm to Ron & Amber Zank in 1991 and moved to their house on the highway.
Marilyn was a member of the United Methodist Church in Neillsville until it closed its doors in 2013. During that time, Marilyn served as the head cook and funeral lunch coordinator for many years and became famous for her jellos even being affectionately referred to as the "jello lady". When the church closed, she became a member of the United Church of Christ in Neillsville.
Marilyn was also a member of the local Red Hat Society's Purple Passion Patooties Chapter. She enjoyed volunteering for the Bloodmobile, and at the Neillsville schools, screening the children's eyes and ears.
She loved her grandchildren, and her grandchildren loved visiting grandma and grandpa's house. Marilyn crocheted every grandchild a baby afghan and a Christmas stocking. She also enjoyed putting puzzles together, reading books, attending Bible studies and spending time at the cabin.
She is survived by her husband of 67 years, Robert, five children, Sharilyn "Nook" (Kim) Ziegler of Willard, WI, Tom (Mary) Marty of Plover, WI, Mickey (Carla) Marty of Neillsville, WI, Gene (Steve) Marty of Wisconsin Rapids, WI and Brad Marty of Green Bay, WI, grandchildren, Jodi (Mike) Gross, Josh (Jenna) Ziegler, Dani (Troy) Kopp, Ben (Lindsay) Marty, Marcus (Leslie) Marty, Julie (Clinton) Woods, Katie (Craig) Lewis, Greg (Andrea) Marty, Heather (Jordan) Jazdzewski and Cory (Emily) Marty, 22 great grandchildren, and sisters-in-law, Diane Wildish of Greenwood, WI, Cathy Marty and Helen Schoen both of Neillsville, WI.
She was preceded in death by her parents, a grandson, Mason Michael Marty, and a brother, John Wildish.
A Memorial Service for Marilyn will be held at 11:00 a.m., Saturday, October 29, 2022, at the United Church of Christ in Neillsville Pastor Gary Wilner will officiate. Interment will be in the Town of Grant Cemetery at a later date. Visitation will be from 9:00 to 11:00 a.m., Saturday at the church. A livestream of the memorial service for Marilyn can be viewed at www.geshefh.com beginning at 11:00 on Saturday.
Honorary Pallbearers will be her grandchildren.
Online Condolences may be made at www.geschefh.com.
Gesche Funeral Home and Cremation Service is assisting Marilyn's family with Funeral arrangements.
---
Feel free to contact us with questions and/or comments.
Obituaries Archive