Dale Marie Combs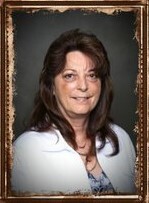 Dale Marie Combs (66) passed away in her home on October 7th, 2022, after fighting a short, but courageous battle with cancer. Her last few days were spent with her loved ones surrounding her.
Dale was born September 13th, 1956, in the state of Maryland, to Martin and Mary Helen Abell. She grew up there and later moved to Wisconsin with her two children Melissa (Coulthard) and Marvin (Lokken). While in Wisconsin, she had two more children, Stacey (Mohr) and Joshua (Polzin). On October 16th, 1987, she completed her Certified Nursing assistant Course in Eau Claire, WI. She worked in many settings throughout her career, but her final employment was with Memorial Medical Center of Neillsville (2016) transferring to Marshfield Medical Center (2019) where she was currently employed. It was her passion to take care of others.
After moving back to Maryland in 2007, she met her now Husband, Joseph "Norm" Combs. They happily married April 1, 2012. Together they moved back to Wisconsin in 2013, to be with the kids and grandchildren.
Dale was known to many by her kind smile, loving and selfless demeanor. She was the calm in so many storms. She loved spending time with her family, being on the water and hosting cookouts. There was nothing that made her more proud than her children and grandchildren. She fought hard to stay here with them, but is now reunited with those who passed before her.
She was preceded in death by: Martin Abell (Father), Mary Helen Abell (Mother), Mary Seal (Sister), Joe Abell (Brother), Baby Girl Abell (Sister), Jimmy Abell (Brother), Harper Polzin (Grandson), Samuel Strangfeld (Great Grandson).
She is survived by: Joseph "Norm" Combs (Husband), Daughters: Melissa (Mike) Coulthard, Stacey Mohr. Sons: Marvin Lokken and Joshua (Wendy) Polzin. Siblings: Marty Abell, Glenda Abell, Pat Leach, Robin Bascara, Michael Abell, David Abell, James Abell.
Grandchildren: Aubree Reis, Sierra (Lee) Strangfeld, Brady Coulthard, Ethan Lokken, Braxtyn Polzin, Oliver Polzin, Harley Polzin, Quentin Rubenstahl and Keaton Rubenstahl.
Great Grandchildren: Quinn Reis, Porter Strangfeld, Malia Reis, Collyns Strangfeld.
Family will great friends and relatives from 4:00 to 7:00 p.m., Wednesday, October 12, 2022, at the Gesche Funeral Home in Neillsville.
Online Condolences may be made at www.geschefh.com.
Gesche Funeral Home and Cremation Service is assisting Dale's family with Funeral arrangements.
---
Feel free to contact us with questions and/or comments.
Obituaries Archive