Laverne Hammen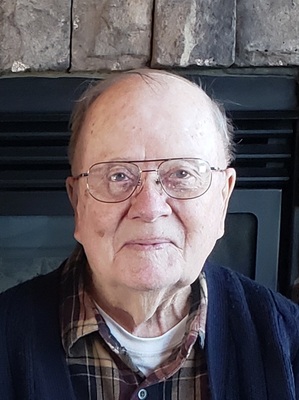 Laverne Hammen, age 90, died Thursday, August 4th at The House of the Dove in Marshfield, WI.
Laverne Erickson Hammen was born March 10, 1932, to Clarence and Dina (Erickson) Hammen. He grew up on the family farm in Cambridge, WI and graduated from Stoughton WI High School in 1950. He was drafted in 1951 into the Marines where he served as a radio operator from 1951-1953 during the Korean War. When he returned from the service, he worked at Gisholt Machine Company as an inspector. He was united in marriage with Sandra (Moen) on July 6th, 1957. They recently celebrated their 65th wedding anniversary.
In 1971, Laverne and Sandra moved from Cambridge, WI to Neillsville. In 1973 they purchased their beloved farm where they lived until March 2022. Laverne worked in Neillsville as an Inspector at Nelson Filter which later became Cummins. He has been retired for 27 happy years. He and Sandra moved to the Aster Assisted Living Facility in Marshfield on March 1st after Laverne had been diagnosed with Acute Myeloid Leukemia in late January 2022.
Laverne was a member of the Calvary Lutheran Church and he enjoyed participating in many activities there, as well as spending time on his farm and with his family.
He is survived by his wife, Sandra and his two children: son John Hammen and his wife Pam of Mt Horeb, WI and daughter Cynthia Topel and her husband Bill of Warrenville, IL. He has 6 grandchildren: Joshua Waggoner and wife Krissy of Minong, WI, Mikayla Hammen and Forrest Hammen of Madison, WI, Alexis Topel of New Orleans, LA, Carter Cooley and Cameron Cooley of Warrenville, IL. He also has 4 great-grandchildren: Zoey, Bella, Scarlet and Joshua John (JJ), children of Josh and Krissy Waggoner of Minong, WI. He also has a brother, Francis Hammen and wife Ingrid of Port St. Lucie, FL.
He is preceded in death by his parents, Clarence and Dina and 3 siblings: Alvin, Ilene and Clifford.
Memorial services will be held at Calvary Lutheran Church on Friday, August 12, 2022, and be officiated by Pastor Chad Anderson. Visitation will be from 10:00 to 11:00 and services will be held at 11:00. A livestream of Laverne's memorial service can be viewed at www.geschefh.com beginning at 11:00 a.m. on August 12th.
Laverne's family would like to thank the staff at the Marshfield Hospital, the Three Oaks Nursing Facility and especially the staff at The House of the Dove Hospice Center for their excellent support and care of Dad during his last few days.
In lieu of flowers, the family would prefer donations in Laverne's name to The House of the Dove Hospice Center in Marshfield, WI, or to the American Leukemia Association. Online condolences can be made at www.geschefh.com. Gesche Funeral Home is assisting Laverne's family with services and arrangements.
Online Condolences may be made at www.geschefh.com.
Gesche Funeral Home and Cremation Service is assisting Laverne's family with Funeral arrangements.
---
Feel free to contact us with questions and/or comments.
Obituaries Archive