Devonne Votava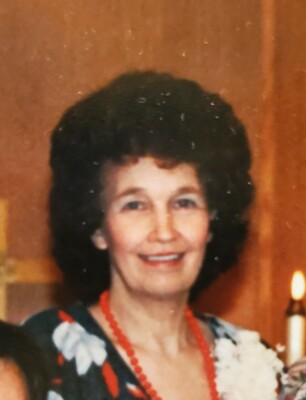 Devonne Votava, age 86, of Wisconsin Rapids, WI, formerly of Neillsville, WI died Saturday, June 18, 2022, at the Wisconsin Rapids Health Services Nursing Home in Wisconsin Rapids, WI.

Devonne Pauline Hanby was born on September 20, 1935, in Neillsville, WI the daughter of Richard and Meta (Marg) Hanby. She graduated from Neillsville High School in 1954 and was united in marriage to Vivian "Shorty" Votava on September 25, 1954, in Iowa. They farmed in the town of Weston and Devonne raised their six children and helped farm while "Shorty" worked construction. Along with those jobs, they also owned and operated Votava's Pet Shop starting in Neillsville and later moving to Marshfield. She also owned and operated her own dog grooming business and raised tropical fish from her home. Vivian died on June 15, 2016.
Devonne attended the Assembly of God church in Neillsville and then the Believer's Church in Marshfield. She enjoyed crafting and could take anything old and make it look new again. She also enjoyed going to garage sales, hunting for antiques, and playing the guitar.
She is survived by six children, Bruce Votava of Marshfield, WI, Steve (Ginny) Votava of Colby, WI, Renae (Brian) Guldan of Wisconsin Rapids, WI, Jenice (Curt) Schrage of Wisconsin Rapids, WI, Craig (Lori) Votava of Marshfield, WI, and Dawn (James) Gibson of Marshfield, WI, 20 grandchildren, 31 great grandchildren and 2 great great grandchildren. She is further survived by a sister, Betty (Jack) Eddy of Beloit, WI.
She was preceded in death by her husband, Vivian "Shorty", her parents, Richard and Meta Hanby, a granddaughter, Mindy Votava, a brother, Roger Hanby, and a daughter-in-law, Diane.

Funeral Services for Devonne will be held at 11:00 a.m., Thursday, June 23, 2022, at the Gesche Funeral Home in Neillsville. Pastor Douglas Bjerke will officiate. Interment will be in the Neillsville City Cemetery. Visitation will be from 10:00 to 11:00 a.m., Thursday at the Gesche Funeral Home.
Online Condolences may be made at www.geschefh.com.

The Gesche Funeral Home is assisting Devonne's family with Funeral arrangements.
---
Feel free to contact us with questions and/or comments.
Obituaries Archive