Lloyd Meyer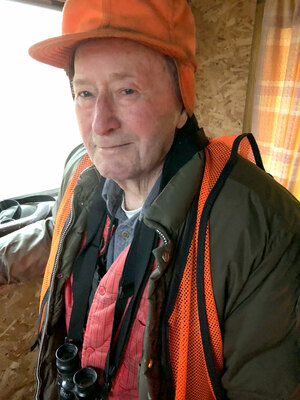 LLOYD C. MEYER, age 95, of Neillsville, WI, passed away at Life Spire Assisted Living Center in Albuquerque, NM on Friday, October 22, 2021. He died peacefully in his sleep in a warm bed.
Lloyd Meyer was born on January 10, 1926 in Hixton, Wisconsin, the son of Frederick Emil Meyer and Nellie (Helwig) Meyer. He was raised and worked on the Meyer family dairy farm a mile East of Neillsville on O'Neil Creek. Lloyd was an avid marble player and collector of shooters, cat's eye and swirly marbles. He started earning money early, running a successful trapping line that he checked on his way to middle school. More than once he was asked to go back home from Neillsville public school because of a smelly encounter with a skunk in the trap line. Although he never finished the eighth grade, he started his own business hauling canned milk on multiple routes. For fun Lloyd would often go roller skating in Hatfield, WI. Shortly after starting his milk hauling business he was diagnosed with tuberculosis and admitted into a TB sanitarium in Eau Claire, WI. This is where he met his future wife, Jean (Smail) Meyer who was a registered nurse who also had TB. In those days, most TB patients never left the "San" alive. Despite having major medical procedures to treat TB, Lloyd beat the long odds against him and was released. He moved out West where he worked in a liquor store in San Francisco, CA. He also sold insurance for a while before moving back to Neillsville in 1955 and bought the Meyer family's dairy farm. He owned and operated his successful dairy farm raising corn, oats, soy beans and alfalfa while milking 50 head of registered Holsteins as one of the first of his generation using artificial insemination to genetically improve his cows. Lloyd also expanded to include a Game Farm license to raise whitetail deer and Rocky Mountain elk for fun and profit. After "retirement" selling the milk cows and deer/elk two decades ago, he continued to actively manage and rent out his crop land until January 2021 when Lloyd moved to New Mexico.
Lloyd's main interest was making money as a savvy businessman. He lived for the "art of the deal" buying/selling transactions in his best favor. But he also loved snowmobiles, 4-wheelers, trout fishing and hunting. Lloyd bought his first Ski Doo in 1967 which forever changed his snowy Winters in Wisconsin. He rarely left the farmhouse without a gun of some kind in his hand! No varmint on his land was safe from his sharp shooting. Whitetail deer hunting in Wisconsin was his real passion, shooting two bucks the same morning his last child (Scott) was born. But he also enthusiastically hunted ducks and pheasants in South Dakota and elk/mule deer in Montana and Wyoming. Lloyd loved catching trout in Stockwell Creek, Hixton, muskies in the Black River & Mead Lake, chasing ruffled grouse (partridge), wood ducks on O'Neil Creek and Canadian geese on Dike 17 Wildlife Area.
Lloyd is survived by his sister: Judy Mess of Scottsdale, AZ; and three of his children: Lynn Ivacic of Loyal, WI; Mark Meyer of Albuquerque, NM; Scott Meyer of Richfield, MN; as well as many loving grandchildren and great grandchildren.
He was preceded in death by brothers Harold Meyer, Ken Meyer and Charles Meyer as well as his wife Jean (Smail) Meyer and daughter Ann.
---
Feel free to contact us with questions and/or comments.
Obituaries Archive