Lydia Blaney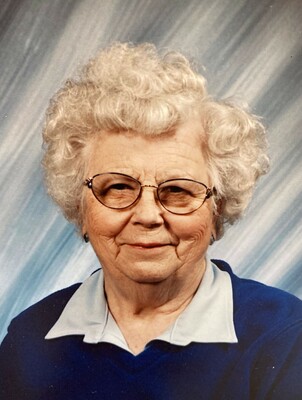 Lydia Blaney, age 100, of Thorp, WI formerly of Neillsville, WI died Tuesday, August 17, 2021 at the Marshfield Medical Center in Marshfield, WI.
Lydia E Schoenherr was born on May 6, 1921 at home in Globe, WI the daughter of Erich and Pauline (Steinberg) Schoenherr. She was in the middle of a family of nine, and she grew up learning the value of hard work from working on a farm. She graduated from Neillsville High School, and then moved to Chicago, and worked as a nanny, and for Guardian Electric, where she tested parts for walkie-talkies, among other tasks. It was at Guardian Electric that Lydia met her husband, Lewis Blaney, who working as a supervisor there. They were married on Dec. 19, 1942. Shortly after, Lewis was drafted into the U.S. Army for World War II. Lydia and Lewis' son Larry was born Dec. 3, 1943 in Chicago. After military service, Lewis returned to Guardian Electric for a short time. Lewis and Lydia's son Lon was born April 15, 1945. They had two other children as well, a son Lyndell and a daughter, Lisa. Lewis moved the family to Neillsville in the late 1940s. He rented a farm from his brother-in-law. Lydia, being a farm girl, taught her husband a few things. They were only in Neillsville a few years before they moved to Kenosha and settle there. Lewis became a carpenter. Lydia enjoyed her family life and was a wonderful homemaker and mother to her four children. She volunteered in church organizations as well. Lewis retired in 1981, and he and Lydia returned to Neillsville, from Arkansas in 1985. Lewis passed away on Oct. 26, 1997. He and Lydia were married almost 55 years. After her husband passed away, Lydia's sister got an apartment for her in Neillsville. In her later years, she volunteered with the Memorial Medical Center Auxiliary thrift store. She also enjoyed playing cards with the Neillsville senior citizen's group. She lived in Neillsville until recently. Three years ago in March, she moved into Sunset Gardens assisted living in Neillsville. After it was announced that Sunset Gardens Assisted Living and Care & Rehab – Neillsville would be closing with the new hospital opening. Lydia had to move. She moved into Traditions Assisted living in Thorp in April.
Lydia always had a love for gardening and plants. Lewis and Lydia enjoyed traveling. They spent several winters in Arizona. Lydia also enjoyed playing cards, crocheting, and watching football and baseball, especially the Chicago Bears and Chicago Cubs.
She is survived by a son, Lyndell of Denver, CO, a daughter, Lisa (Pastor Paul) Ibisch of Oshkosh, WI, a daughter-in-law, Marlene (Rudolph) Dichtl of Boulder, CO, eight grandchildren, and numerous great grandchildren.
She was preceded in death by her husband, Lewis and two sons, Lon and Larry, three brothers, five sisters and her parents.
Funeral Services for Lydia will be held at 11:00 a.m., Monday, August 23, 2021 at the Immanuel Evangelical Lutheran Church in Globe, WI. Pastor Nathan Wilke will officiate. Interment will be in the Neillsville City Cemetery. Visitation will be from 10:00 to 11:00 a.m., Monday at the church.
Memorials may be directed to Immanuel Evangelical Lutheran Church, N6455 County Highway G, Neillsville, WI 54456.
Online Condolences may be made at www.cuddiefh.com.
Cuddie Funeral Home is assisting Lydia's family with Funeral arrangements.
---
Feel free to contact us with questions and/or comments.
Obituaries Archive