Dorothy Gutenberger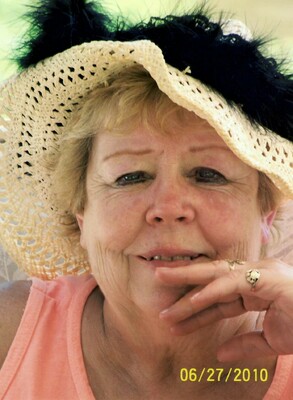 Dorothy "Dottie" Gutenberger, age 80, of Granton, WI died Sunday, November 22, 2020 at her home in the Town of Lynn.
Dorothy Jean Opelt was born on October 29, 1940, in Neillsville, WI the daughter of Carl and Permilla "Millie" (Mack) Opelt. She graduated from Neillsville High School in May of 1958 and on October 12, 1958 she was united in marriage to Frederick "Fritz" Gutenberger. They moved to Freeport, IL and raised five children. Dottie and Fritz were later divorced, and she moved back to Neillsville in 1977. Shortly after moving back to Neillsville, Dottie bought "Louie's White Dot Bar". It was the first of several taverns that she would own in the area over the years. Most recently she owned Dottie's Country Pub which is now known as Polzin's Pub N Grub.
Dottie always enjoyed having a good time. She like to drink beer and she loved singing Karaoke. She will be dearly missed by her family and many friends.
She is survived by five children, Wanda Gutenberger of Neillsville, Bev (Larry) Hediger of Rock City, IL, Kim Nelson, Karen Nelson and Gary (Carey) Gutenberger all of Neillsville, 18 grandchildren, 29 great grandchildren with 2 on the way, four siblings, Evelyn (Donald) Schutte of Neillsville, Donald (Sue) Opelt of Greenwood, Dale (Betty) Opelt and Jennie (Ben) Urlaub both of Neillsville and sisters-in-law, Terrie, Hanna, Mary and Jan Opelt.
She is preceded in death by a grandson, Landon, her parents, Carl and Millie Opelt, siblings and siblings-in-law, Rudy Opelt, Arnold (Delores) Opelt, Bill Opelt, Kenneth (Ruth) Opelt, Gordon "Butch" Opelt, Bernard Opelt, and Robert (Dorothy) Opelt.
A Celebration of Life for Dottie will be held shortly after 5:00 p.m., Saturday, November 28, 2020 at Chili Corners Club in Chili, WI. Pastor Terry Marg will officiate.
Online Condolences may be made at www.geschefh.com.
Gesche Funeral Home and Cremation Service is assisting Dottie's family with Funeral arrangements.
---
Feel free to contact us with questions and/or comments.
Obituaries Archive