Donald L. Schutte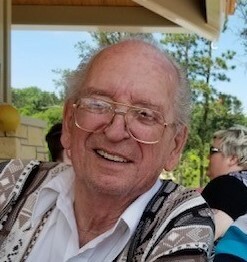 Donald Schutte, age 87, of Neillsville, WI died Tuesday, November 24, 2020 at his home surrounded by his loving family.
Donald Lee Schutte was born on June 3, 1933 in Waukesha, WI the son of Alvin and Ethel (Durst) Schutte. He lived with his grandparents, Roy and Jane Durst for the first five years of his life. He was confirmed at St. John's Evangelical Lutheran Church in the spring of 1947. His first two years of high school were spent at Dr. Martin Lutheran School in New Ulm, MN. He graduated from Neillsville High School in 1951. Don married his sweetheart, Evelyn Mae Opelt on January 12, 1952 at St. John's Evangelical Lutheran Church.
After graduating from high school, Don farmed from 1952 to 1956 in Neillsville, WI, Mukwonago, WI and Woodstock, IL. He returned to Neillsville in 1958 and drove a cattle truck from Neillsville to Des Moines, IA. Later that year he worked at clearing brush in Levis Township. In 1959, he was working at the Nelson Muffler Factory until he moved to DeForest, WI in 1961 to work for a construction company. He returned to Neillsville and worked for the Neillsville Post Office from 1962 to 1964. In 1965, he and his family moved to Brackett, WI, and Don attended Chippewa Valley Technical College for structural drafting/architecture for two years. He then worked at Raymer's selling builder's hardware in 1968, and from 1969 to 1970 worked at Willard's Building Center as an architect, designing new houses. They moved to Strum, WI in 1970 and for eight years, Don built and sold Wisconsin Homes and Wausau Homes. In 1978, they moved back to Neillsville and Don worked for the Fullerton and Savrite Lumber Companies. He spent many years working as a carpenter, owing rental properties and a resale shop.
Don was a man of strong faith; He was a lifelong member of St. John's Evangelical Lutheran Church. He loved spending time with his family and attending family reunions, researching genealogy, refinishing furniture, going to auctions and playing cards especially sheephead. Don was about family first. He adopted two children, Irv and Jennie and raised his grandchildren, Rhoda, Rob and Rurik as his own.
He is survived by his wife of almost 69 years, Evelyn (nee Opelt) Schutte, sons, Rory (Diane) Schutte, Irv Schutte, daughter, Jennie (Michael) Blau, grandchildren, Rhoda (Rene) Perez, Rob (Jenny) Schutte, Rurik Schutte, Ahava Blau, Parker Blau and Noah Blau, great grandchildren, Angel Wood, Alex Wood, Andrew Wood, Eric Schutte and Ryan Schutte. Don is further survived by a brother, Darryl (Nancy) Schutte, sisters, JoAnne St. John and Dianne Buettner, a sister-in-law, Marie Schutte and many nieces and nephews.
He is preceded in death by his parents, Alvin and Elthel Schutte, father-in-law, Carl Opelt, mother-in-law, Millie Opelt, a brother, Marvin Schutte, a sister, Janice Stenuelson, brothers-in-law, Bob Opelt, Arnie Opelt, Bill Opelt, Rudy Opelt, Kenneth Opelt, Gordon "Butch" Opelt, Bernie Opelt and a sister-in-law, Dorothy "Dottie" Gutenberger.
The family would like to express their thanks and gratitude to Marshfield Hospital ICU, especially Chris R. and to St. Croix Hospice, Jill and Kelly for their care of Don in his final days.
Private family services are being planned.
Online Condolences may be made at www.geschefh.com.
Gesche Funeral Home and Cremation Service is assisting Don's family with Funeral arrangements.
---
Feel free to contact us with questions and/or comments.
Obituaries Archive