Marjorie D. Short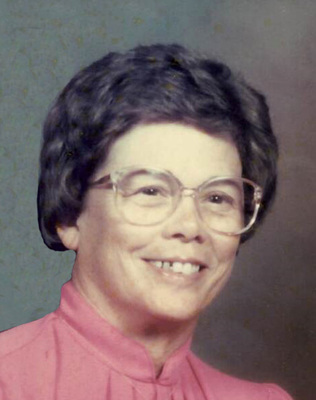 Marjorie Doreen Short, 99, of Granton, WI died on April 1, 2021 at the House of the Dove in Marshfield. Marjorie Doreen Dempsey was born on November 20, 1921 in Barron, WI. She spent her childhood on the family farm in nearby Hillsdale with parents Raleigh and Daisy and four brothers. Times were often lean and the children, like most "farm kids," were asked to pitch in on the chores. They learned the value of hard work, a lesson that Marjorie embodied throughout her entire life.
When she was only four, she followed her older brothers to school everyday until the teacher let her stay. After graduating from Barron High at 16, Margie entered the University at River Falls, earning a B.A. in education at 18. She then joined the faculty at Merrillan High School.
Early in 1946, Margie agreed to go on a blind date with fellow teacher Jeanette Ehlers and her boyfriend Bob Braatz, both from the Neillsville-Granton area. Bobby brought along his friend Dale Short. Both the men were recently returned WWII veterans. Dale and Margie were a great match and married that Oct. Dale brought his bride home to Pleasant Ridge, Town of Grant, where they lived throughout their 61-year marriage.
When they met, Dale was farming with his parents Eugene and Leah and his two brothers. They were milking cows and raising fox and mink. Upon her marriage, Margie pitched in at the mink ranch and became an integral member of the crew. The fur endeavor became Short's Fur Farm, a successful 70-year agribusiness.
In 1947, they had their son Wayne and in 1949, a daughter Lorraine. Both Margie and Dale were supportive of their children's interests and activities, including hosting several parties for the "kids" at home and at the lake. Margie also enthusiastically supported Dale's love of flying and they traveled extensively in his plane, by car and in their RV.
Dale and Margie lived on their farm for all of their 61-year marriage. Margie worked on the fur farm well into her 70s. After Dale's death in 2007, Margie remained at home until mid-2015. She then moved to the Neillsville Retirement Community, Neillsville Care and Rehab, and finally the House of the Dove in Marshfield.
Marjorie is survived by her son and daughter-in-law Wayne and Bonnie (Foemmel) Short of Pleasant Ridge, daughter Lorraine Short and partner Paul Smith of Bayside, Texas, granddaughter Stephanie (Larry) Swenor and great granddaughters Sydney and Kamryn Swenor, all of Mukwonago. She is also survived by many nieces and nephews. During her childrens' teens, the family grew to include a foreign exchange student, Yvonne (Brunner) Schuler, who survives "Mom." She and her husband Hans and their family reside in Brazil and their native Switzerland.
Margie was preceded in death by Dale, her parents, brothers and their wives, Robert and Frances, Albert and Wilma, Allen and Jo, Clarence (as a toddler), and James and Francis Dempsey, brothers-in-law and wives, Glen and Coletta and Floyd and Joan Short, sister-in-law Jeannette (Short) Gaier.
Marjorie's funeral service is at 11 a.m. on Wed. April 7 at the Gesche Funeral Home. Visitation at 10 a.m. Burial follows alongside her beloved Dale in the Town of Grant cemetery on Pleasant Ridge overlooking their longtime home.
Margie will be greatly missed by her family and countless friends from far and wide. The family suggests remembrances be in the form of donations to the American Legion Post 73, The Highground, or House of Dove.
Online Condolences may be made at www.geschefh.com.
Gesche Funeral Home and Cremation Service is assisting Marjorie's family with Funeral arrangements.
---
Feel free to contact us with questions and/or comments.
Obituaries Archive