Clark County Health Department Partners With Childcaring to Support Youngest Learners in Clark County
Friday, November 17th, 2023 -- 11:01 AM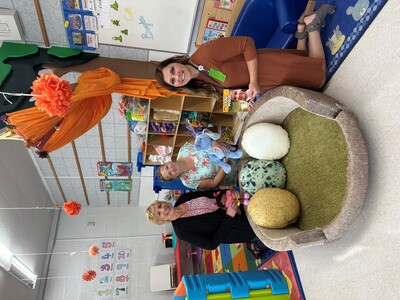 The Clark County Health Department (CCHD), in partnership with Childcaring (a local non-profit resource and referral agency), collaborated to support the youngest learners in Clark County-children in child care center settings and a local elementary school district.
Utilizing COVID-19 American Rescue Plan Act (ARPA) grant dollars intended to support community recovery, the CCHD purchased social-emotional items for Zion Lutheran Early Childhood Center, St. John's Lutheran Early Learning Center, Firehouse Friends, Central Clark County Community Child Care Center (7 C's), Granton Community Child Care Center, and Colby Elementary School to create calming areas/safe spaces.
Some items the centers received included a sensory hideaway, cozy nest with pillows, breathing carpet squares, sensory and fidget items (balls, tubes, poppers, rings dolls, beanbags, and bottles), stacking cups, calm down cubes, moods and emotions board books, breathing boards, weighted stress relief stuffed animals, etc.
A Quality Consultant/Trainer with Childcaring then assisted each center in setting up the calming areas and coached staff on supporting children in developing emotional literacy, friendship skills, and problem-solving strategies.
Science shows the early years of a child's life are critical for later health and development. A child's experiences with other people strongly affect how their brain grows. When children are distressed, overstimulated, or dysregulated, the items in the calming areas can help support their social-emotional needs.
"Child care centers are valuable assets in our communities. They are the foundation for a healthy economy and have one of the most important roles in shaping the youngest minds for success, yet they receive minimal funding. When the CCHD was given an opportunity to help support our local child care centers, we quickly pursued the collaboration," stated Brittany Mews, Health Officer/Director.
To learn more about the Clark County Health Department or Childcaring, please visit their websites: https://www.clarkcountywi.gov/healthdepartment or https://childcaring.org/.
---
Feel free to contact us with questions and/or comments.