Marshfield Area United Way's Annual Community Fundraising Campaign Underway
Tuesday, September 26th, 2023 -- 9:01 AM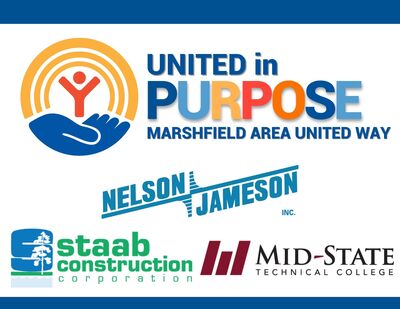 Marshfield Area United Way's annual community fundraising campaign is underway.
Funds collected during the campaign will be used to support community programs working to improve health, expand education, grow livelihoods, and address essential needs. Each year United Way highlights businesses or individuals that stand out as active examples of the many ways United Way partners with local organizations and volunteers, working together to make the Marshfield community a better place to call home.
The campaign this year will feature three local businesses:
Nelson-Jameson,

Staab Construction,

nad Mid-State Technical College.
All three of these organizations have a long-standing commitment to the community and making it a better place for everyone to live, work, and play. "Mid-State Technical College is proud to be a Marshfield Area United Way featured business. Our continued support for United Way stems from our long history of aligning with like-minded partners who share our mission to transform lives and make a positive impact in our community. We know we are stronger together," Alex Lendved, Campus Dean, Mid-State Technical College.
"At Nelson-Jameson, we sincerely value and appreciate the work the United Way does in our communities. The United Way provides an impressive breadth of programs and services to so many, and makes our community stronger because of it," added Mat Bartkowiak, VP of Corporate Responsibility and Development, Nelson-Jameson.
United Way chose the campaign theme "United in Purpose," sharing a vision for the community where every person, no matter their background or circumstances, has an equal chance at a bright future.
Along with its partners, United Way works to ensure households are able to keep a roof over their heads, have enough nutritious food to eat, a safe place to call home, access to physical and mental health care, and a strong start with a good education including quality childcare.
Working to address these needs not with hand-outs, but a hand-up when households find themselves in a crisis, United Way and its partners work to provide a bridge through hard times. Making sure all community members have access to the tools they need to build toward a better life, that's the mission of United Way.
Every donation, big and small alike, is important. Support for the United Way delivers necessary funds not just to United Way programs, but also to numerous partner agencies throughout the community addressing both long and short-term needs.
Join Nelson-Jameson, Staab Construction, and Mid-State Technical College as they lead the way to raise essential funds to help community members move forward through adversity and continue building toward a brighter future.
To learn more about United Way's work, to watch this year's video "United in Purpose" featuring Nelson-Jameson, Staab Construction, and Mid-State Technical College, and to make a generous donation, please visit www.marshfieldareaunitedway.org.
---
Feel free to contact us with questions and/or comments.