Marshfield Clinic Research Institute Looking for Individuals to Participate in Lyme Disease Clinical Trial
Tuesday, September 26th, 2023 -- 8:01 AM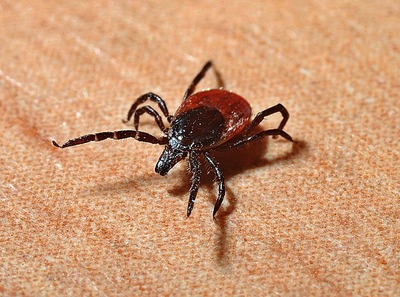 Marshfield Clinic Research Institute is looking for people who live, work and play in areas where Lyme disease is prevalent to join a Pfizer Phase 3 clinical trial.
Vaccine Against Lyme for Outdoor Recreationists (VALOR) will investigate the efficacy, safety and immunogenicity of their investigational Lyme disease vaccine candidate, VLA15. Lyme disease is a common illness caused by a bacteria found in ticks.
Bites from infected ticks can transfer the bacteria to humans and cause a characteristic rash, fevers, and fatigue. If untreated, Lyme disease can sometimes progress to a more complicated disease involving the heart, nervous system, or joints.
Currently, there are no approved vaccines available to prevent Lyme disease. The VALOR research study is evaluating if an investigational (study) vaccine is safe and effective for preventing Lyme disease in people who have been exposed through tick bites.
"Ticks are common in the Midwest and Lyme disease is a threat for everyone who enjoys being outdoors in summer," said Dr. Ray Haselby, a Marshfield Clinic infectious disease physician and researcher. "The potential for a vaccination that could provide protection against Lyme disease is significant for many people."
This is the second enrollment the Research Institute has held for this study; the first having started in October 2022. The latest enrollment will take place August through December at Marshfield Medical Center in Marshfield.
Healthy adults and children 5 years of age or older who live in or often visit outdoor areas that may expose them to ticks may be eligible to participate. Trial participants cannot have been diagnosed with Lyme disease within three months of enrollment.
Activities that may increase the risk of Lyme disease include:
Live in or frequently visit areas where ticks that carry Lyme disease are found, such as wooded areas, tree lines, open fields, lakesides or riversides;

Outdoor occupations such as landscaping, forestry, wildlife or parks management;

Hiking, camping, fishing, hunting, or gardening;

Owning a pet that has returned with ticks attached after being outside.
Study participants will be randomly assigned to receive the study vaccine or a placebo (shot with no active ingredient). This study will last about 30 months. During this time, participants will have at least seven in-clinic study visits, including 4-5 visits with blood draws.
Additional blood samples may be needed if participants develop symptoms of Lyme disease. Over the course of the study, participants will need to report any changes in their health to the study team. The study vaccine and study-related procedures will be provided at no cost.
You do not need health insurance to take part in this study. To learn more about this trial and to find out if you are eligible to participate, visit https://www.valorlymestudy.com/. Alternatively, contact the study team at 715-389-7527 or 2valorlymestudy@marshfieldresearch.org.
The randomized, placebo-controlled, Phase 3 VALOR study has already enrolled more than 6,000 adults and 800 children in areas where Lyme disease is highly endemic in the United States and Europe.
---
Feel free to contact us with questions and/or comments.