DNR Reminds Boaters and Anglers to Protect State Waters
Friday, June 2nd, 2023 -- 9:01 AM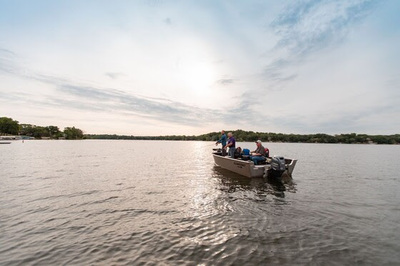 The Wisconsin Department of Natural Resources (DNR) reminds boaters and anglers to help protect Wisconsin's rivers, streams and lakes during this weekend's Drain Campaign.
The annual Drain Campaign, June 2-4, focuses on the importance for boaters and anglers to always drain their livewells and fish buckets before leaving boat launches and fishing access points.
Boat inspectors from Clean Boats, Clean Waters will be at boat launches across the state promoting draining and handing out blue boat towels printed with the "Drain Your Catch" message.
Draining is one of the important steps to help prevent the spread of aquatic invasive species (AIS), limiting the spread of microscopic larvae of zebra mussels and of diseases, including the fish virus Viral Hemorrhagic Septicemia (VHS).
In addition to draining livewells and buckets, boaters should pull the drain plugs on their boat and tip their motor straight up and down to drain any local water before securing it for the drive ahead.
Anglers should get their catch on ice as soon as possible. The cold will keep fish fresh and reduce bacterial growth. Fish kept in water fill the water with waste, including nitrate and ammonia, both of which are toxic to other fish in the water. Every boater and angler has a role to play in protecting Wisconsin's lakes and rivers.
Everyone should follow these prevention steps, required by Wisconsin state law, to help prevent the spread of aquatic invasive species in our waters:
Inspect boats, trailers and equipment;

Remove all attached aquatic plants and animals;

Drain all water from boats, vehicles and equipment, including livewells and buckets containing fish;

Never move plants or live fish away from a waterbody;

Dispose of unwanted bait in the trash;

Buy minnows from a Wisconsin bait dealer.
Additionally, only use leftover minnows when fishing with them on the same body of water. They can be used on other waters only if no lake or river water or other fish have been added to their container.
To learn more about invasive species and their impacts on Wisconsin's waters and economy, visit the DNR's invasive species webpage.
---
Feel free to contact us with questions and/or comments.