Pet of the Week: Omar
Wednesday, September 21st, 2022 -- 11:00 AM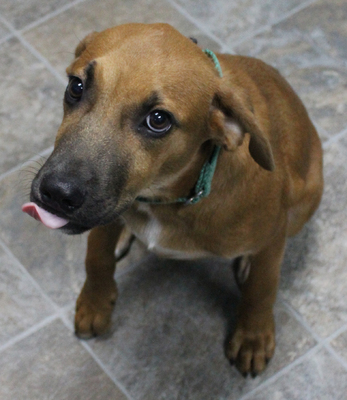 Omar is the Pet of the Week from the Clark County Humane Society made possible by Creekside Kennels south of Black River Falls.
Names: Omar
Ages: 5.5-months-old
Breed: Mixed Breed
Omar is the CCHS Pet of the Week! Omar is one really cute guy! He's a mixed breed dog who came to CCHS from another overcrowded Shelter in Texas. He has a short- haired reddish-brown coat with a little white on his chest. He is 5 1/2 months old and weighs 30#.
Omar has a happy personality and loves to be around people. He's a typical puppy, so he has lots of energy and is always ready for new adventures to begin. But he's also a smart guy so he's also ready to learn lots of things so that he can be a good dog.
Plus training is a great way to bond with your new puppy! If you're looking for a new best friend, apply to adopt Omar today! Adoption applications can be submitted through our website: www.cchs-petshelter.org/applying-to-adopt.
Do you have a love for cats and dogs and have been thinking it would be nice to help out at CCHS? Well, now's your chance! Whether it's a few hours a week, one day a month, or something in between, this is your opportunity to try it out. We are very much in need of volunteers!
You can learn more about, and adopt, Omar, and all the animals at the shelter, at their website,
www.cchs-petshelter.org
. You can also apply for adoption in person.
Check out our Facebook page for pictures of Omar.
---
Feel free to contact us with questions and/or comments.