Wausau's Taste and Glow Balloon Festival Has Estimated $5 Million Impact to the City and Marathon County
Thursday, August 18th, 2022 -- 8:00 AM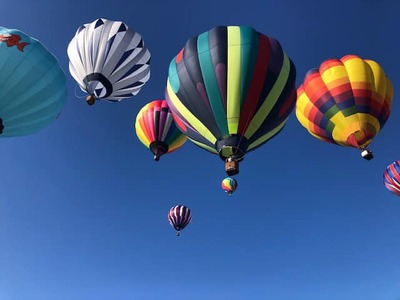 (Mike Leischner, WSAU) It's an estimated five million dollar impact to Wausau and Marathon County, that's the report from the Wausau and Central Wisconsin Convention and Visitors Bureau after the second annual Taste and Glow balloon festival.
CVB Executive Director Tim White, addressing the Weston Tourism Commission this week, "It's $1.6 million on Friday, for the whole area. $3.2 million on Saturday. And $270,000 on Sunday."
He says there was strong representation from the Milwaukee and Chicago area, which saw a fair amount of targeted advertising ahead of the event. "I believe that people in Milwaukee and people in the Chicago area saw the advertising and thought 'wow, let's come up here and spend time and go to this event and enjoy the other things in Wausau.'"
He says tracking data showed only two of the 50 US States were not represented in the weekend attendance figures and they were not the two states you would have thought of first. "Except for Vermont and Wyoming. I'm not really sure why. It's pretty impressive that people came from around the country to attend this event."
He says people from 48 of the 50 US States were in town for the event, data they were able to mine through both modern and traditional means. "Some Google analytics, it was room stays, credit card transactions, cell phone usage, social media usage."
White says he is already working with the event's organizers and promoters for next year's edition- the taste and glow balloon festival grew out of the canceled Wausau Events balloon and rib fest in 20-21.
---
Feel free to contact us with questions and/or comments.