Mid-State Celebrates Grand Opening of Healthcare Simulation Center in Wisconsin Rapids
Tuesday, August 16th, 2022 -- 9:13 AM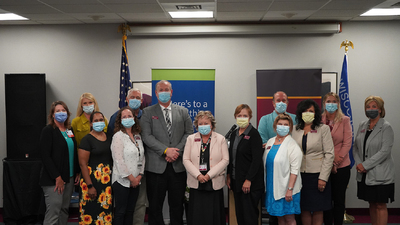 Mid-State Technical College hosted the grand opening celebration of its Healthcare Simulation Center at Aspirus Health in Wisconsin Rapids on Friday, Aug. 12th.
Attendees heard from partners and supporters and enjoyed tours of the 12,000 square-foot space, including high-fidelity simulators, an Anatomage Table and other health care technology.
The Mid-State Healthcare Simulation Center is a state-of-the art facility designed to help meet the community's growing demand for highly trained health care professionals.
It is a unique interdisciplinary health care simulation training facility in an actual health care setting that allows Mid-State Technical College to greatly increase nursing student capacity and provide experiences for all health and EMS programs at the College.
It also provides professional development for current health care professionals through continuing education and customized training. The facility was completed and launched in 2021 through a partnership with Mid-State Technical College, Aspirus Health and The Legacy Foundation of Central Wisconsin and during the height of the pandemic.
According to Mid-State President Shelly Mondeik, over 1,000 students have already engaged in simulation activities since the Simulation Center opened in 2021, with 350 students across Mid-State's health programs now training in the facility each semester.
Starting fall 2022 employer-sponsored professional development training opportunities and community-based learning opportunities will be available.
---
Feel free to contact us with questions and/or comments.