Pet of the Week: Frisky
Wednesday, June 22nd, 2022 -- 2:02 PM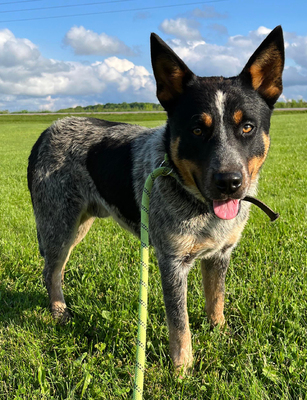 Frisky is the Pet of the Week from the Clark County Humane Society made possible by Creekside Kennels south of Black River Falls.
Name: Frisky
Age: 1-Year-Old
Breed: Heeler Mix
Frisky is the CCHS Pet of the Week! Frisky is a neutered male Heeler mix, and he was surrendered to CCHS from a local farm. Frisky is about a year old and weighs 41#. He is a handsome boy with a short-haired coat and typical Heeler markings. Frisky is a very happy boy who really enjoys being with people.
He loves making new friends and his tail is always wagging. He's also a very smart boy with lots of energy, so it will be important to keep him busy with lots of exercise and enrichment activities. He can't wait to join his new forever family! Adoption applications can be submitted through our website:
www.cchs-petshelter.org/applying-to-adopt
.
On Saturday, July 2nd, there will be a "Pawty in the USA" at CCHS! We are celebrating our 35th Anniversary and invite everybody to join us at the Shelter! From 10:00 a.m. - 4:00 p.m. that day, there will be more than 20 vendors and crafters, food trucks, live music, children's activities, a photo booth, garage sale, silent auction, bake sale and loads of fun for everybody! More details can be found on our website. Please come and see what CCHS is all about and have a great time!
You can learn more about, and adopt, Frisky, and all the animals at the shelter, at their website,
www.cchs-petshelter.org
. You can also apply for adoption in person.
Check out our Facebook page for more pictures of Frisky.
---
Feel free to contact us with questions and/or comments.