Pet of the Week: Darius
Wednesday, November 24th, 2021 -- 11:01 AM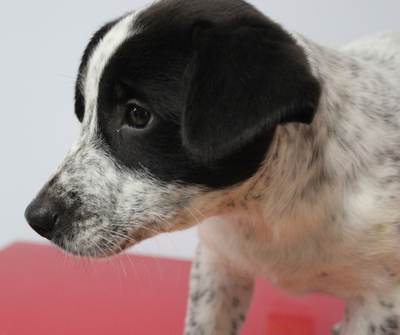 Darius is this week's Pet of the Week from the Clark County Humane Society made possible by Badger Animal Clinic, Courteous Canine in Black River Falls, and Creekside Kennels south of Black River Falls.
Name: Darius
Age: 11-Weeks-Old
Breed: Heeler Mix
Meet Darius, the CCHS Pet of the Week! Darius is 11 weeks old and is a Heeler mix puppy. He came to CCHS from a local farm where there were just too many puppies. Darius is a typical puppy with a happy outlook on life and boundless energy.
He loves to experience new things and can't wait for his next adventure to get started. Darius is a Blue Heeler which is a herding breed, so he'll need lots to do to keep busy or he'll get himself in trouble! But he loves to be with people and can't wait to find his new forever family.
lf you've been thinking of getting a new dog to add to your life, there's never been a better time, as we have an amazing group of dogs and puppies at the Shelter.
Check out all of our available pets on our website and apply to adopt today! Adoption applications can be submitted through our website: www.cchs-petshelter.org/applying-to-adopt. CCHS is open again! We have reopened during our regular hours of 12-3 on Monday, Wednesday, Friday and Saturday.
Adoptions are still being done by appointment, but we are again welcoming visitors and volunteers. Please stop in and see all of the wonderful cats and dogs we have available for adoption! Everyone at CCHS wishes you a Happy Thanksgiving!
You can learn more about, and adopt, Arnie, and all the animals at the shelter, at their website,
www.cchs-petshelter.org
. You can also apply for adoption in person.
Check out our Facebook page for more pictures of Arnie.
---
Feel free to contact us with questions and/or comments.